Because of the terms of licence agreements for the manufacture in Poland of Bristol engines, it was difficult to market export aircraft with P.Z.L.-built versions of these engines. To overcome this difficulty it was decided in February 1932 to develop a new fighter with different powerplant, the airframe of the P.Z.L. P.11 being redesigned to accept a new Gnome-Rhone engine designated 14Kds Mistral Major and rated at 567kW. Availability of the first of these engines delayed until May 1933 the initial flight of the resulting P.Z.L. P.24/I prototype, a flight which ended in a forced landing when the propeller disintegrated. The P.24/I did not fly again until October 1933, showing a need for many modifications which were introduced in the P.24/II second prototype, this aircraft also being known as the Super P.24. On 28 June 1934 the aircraft established an FAI-accredited class speed record of 414km/h. A third prototype flown in 1934, the P.24/III or Super P.24bis was powered by a 694kW Gnome-Rhone 14Kfs and armed with two 20mm cannon and two machine-guns. Exhibited at the 1934 Salon de I'Aeronautique in Paris, this aircraft caused considerable interest and led ultimately to valuable export orders. The first came from Turkey, which not only negotiated a licence for the manufacture of the P.24, but also ordered 40 P.24A fighters generally similar to that shown at Paris, 26 P.24C aircraft with four wing-mounted machine-guns, and components plus raw materials for the assembly of 20 more P.24As. Next came an order from Bulgaria for 14 P.24B aircraft which were similar to the P.24C apart from installed equipment and were delivered from early 1938, followed by 24 P.24Cs and 26 examples of the P.24F, the final development of the type, which introduced a 723kW Gnome-Rhone 14N.07 engine of smaller diameter and had twin cannon and twin machine-gun armament. The P.24E, developed to meet a Romanian requirement, was generally similar to the P.24C: six built by P.Z.L. had 671kW Romanian-built Gnome-Rhone 14Kllc32 engines, but later examples of the 40 or so P.24Es built by I.A.R. in Romania had the 701kW I.A.R.-built 14KMc36 engine. In late 1939 I.A.R. developed a low-wing version of the P.24E under the designation I.A.R.80. The four machine-gun equivalent of the P.24F had the designation P.24G, and 30 and six respectively were acquired by Greece for service with the Royal Hellenic air force. They comprised almost the entire fighter strength of this last air force and were deployed with considerable success against both the Luftwaffe and Regia Aeronautica.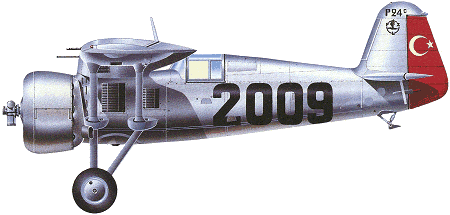 MODEL
P-24F
CREW
1
ENGINE
1 x Gnome-Rhone 14N.07, 723kW
WEIGHTS
Take-off weight
2000 kg
4409 lb
Empty weight
1332 kg
2937 lb
DIMENSIONS
Wingspan
10.7 m
35 ft 1 in
Length
7.6 m
25 ft 11 in
Height
2.7 m
9 ft 10 in
Wing area
17.9 m2
192.67 sq ft
PERFORMANCE
Max. speed
430 km/h
267 mph
Ceiling
10500 m
34450 ft
Range
700 km
435 miles
ARMAMENT
2 x 20mm cannon, 2 x 7.7mm machine-guns
| | |
| --- | --- |
| | A three-view drawing of P.24G (1280 x 888) |
axxius, e-mail, 20.02.2013 19:12

the Romanian IAR80 was NOT a P24 version, but a different design. indeed the tail and rear part were "inspired" from the P24 (with some modification), but everything else is different.
aerofan, e-mail, 22.08.2011 23:52

Poland only imported Gnome-Rhone engines. Poland produced engines (for combat aircraft) at Bristol license (for example Mercury VIII).
Barry, 01.07.2011 13:25

To add to William Luther's posting, there are two P24Gs still extent in Turkey. One (2015)is at the Havacilick Museum at Yesilkoy Instanbul and another (2017) is at the Turkish Airforce Museum at Etimesqut Ankara.
Marcin Nevinyrral, e-mail, 13.06.2011 20:50

Poland did not used them, only the P.11 because air forces were waiting for new projest
Bill Clark, 04.01.2011 04:21

Did Poland build the Gnome-Rhone engine for the P-24 or were they imported?
Bill Luther, e-mail, 16.09.2009 23:11

Believe it or not the PZL P.24 was produced for export only and not used by the Polish Air Force. Both the Greek and Romanian air forces used them during World War Two and there is little evidence that the Bulgarian Air Force models saw any combat as by the time Allied aircraft began to appear over their airspace they were already rotated out of front line use. I've read that one example on hand was utilized during 1939 in Poland but to little eefect.
Sgt.KAR98, 22.08.2009 03:13

Wasn´t this plane operated by Poland?
Seems better than the P.11c
William Luther, e-mail, 26.09.2008 22:19

I recently discovered that there is a PZL P24 in existance at the Istanbul Yesilkoy Aviation Turkish Air Force musuem.
Bill Luther, e-mail, 17.01.2008 18:41

Here is a link to an excellent article on thr P-24 in Greek service against the Italians and Germans:

www.brushfirewars.org /aircraft /pzl_p24_greek /pzl_p24_greek.htm
Do you have any comments?

COMPANY
PROFILE