On 23 August 1938 the US Navy ordered from Martin a single prototype of the Martin 170 design for a patrol bomber of flying-boat configuration. Designated XPB2M-1, it was the world's largest flying-boat when flown for the first time on 3 July 1942, but by then the United States had become involved in World War II and it was decided not to proceed with procurement of the type as a patrol bomber. Instead, the boat was modified for use in a transport role, becoming re-designated XPB2M-1R and entering service in December 1943. It remains the largest flying-boat to have been operated by the US Navy and an early demonstration of its capability came in 1944, when a 9299kg cargo was delivered to Hawaii in a 7564km round trip completed in only 27 hours 36 minutes, resulting in a US Navy order for a production version under the designation JRM-1 Mars. This covered 20 aircraft to be completed specially for the transport role, but the end of World War II brought contract cancellations and only five were built, plus a single JRM-2 for operation at a higher gross weight. When the five JRM-1s were later modified to this latter standard they became redesignated JRM-3. These 60.96m span aircraft were powered by four 1715kW Wright R-3350-8 engines, and an appreciation of their capacity can be gained from the fact that on 19 May one of them, Marshall Mars, carried a total of 301 passengers, plus its crew of seven.
Martin JRM Mars on YOUTUBE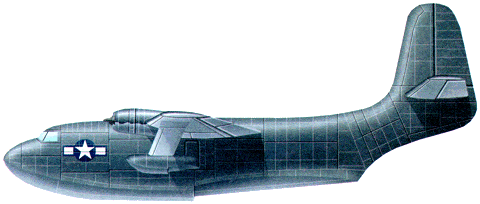 CREW
7
PASSENGERS
40
ENGINE
4 x Wright R-3350, 1620kW
WEIGHTS
Take-off weight
67130 kg
147997 lb
Empty weight
34300 kg
75619 lb
DIMENSIONS
Wingspan
61.0 m
200 ft 2 in
Length
36.6 m
120 ft 1 in
Height
13.6 m
45 ft 7 in
Wing area
242.0 m2
2604.86 sq ft
PERFORMANCE
Max. speed
380 km/h
236 mph
Cruise speed
300 km/h
186 mph
Ceiling
5200 m
17050 ft
Range w/max.fuel
9300 km
5779 miles
| | |
| --- | --- |
| | A three-view drawing (684 x 776) |
Don Hoover, e-mail, 07.10.2017 21:22

I flew as 3rd /2nd flight engineer on the Mars in VR-2 NAS Alameda, Ca,1954 /55. I was on the panel on Hawaii Mars when the picture of the four in formation was taken.
Tom Pearson, e-mail, 04.06.2015 22:31

My first airplane flight was with my mother at the age of 2 aboard a JRM-3 MARS from Alameda NAS to Pearl Harbor in 1946. We were going to join my Marine Corps father who was stationed at Pearl Harbor.
TORBJÍRN KAMPE, e-mail, 01.06.2015 23:35

BIG I SEA, HEVY VENT TO SEA AND SEXY DESING.
Donald Wilfahrt, e-mail, 06.04.2015 03:36

As an Ensign at Sangley Point in the Philippines my job was to meet the Marianas Mars and others weekly as they arrived at the VR 2 Navy Seaplane Base and calculate their loading with a slide rule. It had a sliding chain hoist underside the wing to unload spare engines. Have pictures of it from 1945.
Robert W Gruebel, ACMM USN Ret, e-mail, 16.03.2015 06:04

I Flew as Flight Engineer in VR-2 on Mars out of Alameda in 1952. She was a beautiful aircraft. Access to the engine accessory section for inspection inflight when necessary was an amazing thing. After fling TBD's and TBF's off USS Enterprise 1942-1944, transport aircraft (R4D, R5D, JRM, R6D, and the Connie)were a pleasure to fly, but none were as impressive as the Mars. My children enjoyed watching the Mars land and take off in Keehi Lagoon at John Rodgers airport(now Honolulu International)
H. Fraser, e-mail, 05.06.2013 20:02

I flew the Martin Mars for 32 years in it's fire fighting role. Most of my flying career has been with these A /C.
It is hard to explain the thrill and excitement when ,at low levels in mountainous terrain, 7,205 US Gals. [60,000lbs] are released onto a fire.
In the 70's-80's-90's we regularly flew on operations with an all up weight of over 175,000lbs. [][8766US Gals.] The Mars is not only big, it is a workhorse that packs an incredible load!
The Martin Mars is truly a pilot's airplane! A real pleasure to fly.
Don Chance, e-mail, 23.02.2013 20:09

I went to work for the Martin Co. out of engineering school in 1955. I work at the seaplane base on Middle River, MD. There were several Mars there being refurbished from time to time. Great looking plane. I also worked on the P6M 4 jet seaplane.
L smith-novosad, e-mail, 03.01.2013 23:33

Looking through my Dad's wallet, I found a dollar with the names of 17 men from the Mars. It took a while to find out what it was talking about. The names are the "First Passengers voyage of "MARS" Aug.8-9,44" Honolulu - Alameda. Does anyone know anything about the sighing of the dollar? Some of the names are Allen B. Larkin, C. F. Carr, Ray Morris, C. W. Gilmore, Fred Riggs, Fisher. I
stanley strazza, e-mail, 31.12.2012 21:25

the co-ordinace for the wreckage of Marianas Mars water-bomber crash site near the Mt Morierty range is: 49 degrees, 12 minutes North lattitude 124 degrees, 23 minutes West longitude....wreckage-site was logged over twice since, but lots of bits and pieces still scattered everywhere.
born2clearcut, 12.12.2012 19:09

Does anyone know what year the mars water bombers were painted red /white ? thanks in advance
Scott, e-mail, 28.11.2012 21:05

Hi, I am doing a project involving the Mars and I was wondering if any former pilots remembered what the stall speeds were?
Thanks,
Scott
Paul Willson, e-mail, 22.08.2012 04:24

PHILIPINE MARS is being retired to museum @ NAS PENESECOLA once check over is done
Penny J. (Hassett) Larson, e-mail, 25.06.2012 00:11

My mom, sister, brother and I flew on the Philippine Mars from Alameda to Hawaii in 1952 to meet my dad who was stationed in the Navy at Hickam Air Force Base. I think she said the flight was about 14 hours, but very nice.
John, e-mail, 02.03.2012 20:53

March 1 2012
The history channel Had the program about the Mars
water bomber fighting fires in Mexico Badlands. As
an Canadian I hope it stays in Canada. Quite a site
in it;s Red and White paint scheme.
Paul Barager, e-mail, 02.01.2012 21:07

In fire season Martin Mars Hawaii was parked at the end of the lake(Lake Elsinore Ca) and ran up engines every day. Check out the pics when you "wiki" it. Seeing this plane in 2009 still working for a living is like seeing a living dinosaur. But one that you can Love.
sales, e-mail, 12.12.2011 16:59

did the jrm mars haul bodies durning the war
Scott Fiske, e-mail, 04.10.2011 03:44

Looking for anyone who might have known / flown with a C. O. "Larry" Fiske - was a Navy pilot in WWII - flew these out of VX-2? I think. I am his son - looking for any remembrances of that time
Tom Knight, e-mail, 27.09.2011 13:23

My dad flew the Mars during WWII as a member of VR-2. He was Lt. Olyce Thomas Knight.
He flew from Kwajalein to the Japanese held island of Truk on one flight. He bombed the port there, and was later awarded the Distinguished Flying Cross for that action. He was in the Pacific Theater from 1943 to 1945.
The plane shown here is bigger than the one my dad flew though, although both were designated as the Mars.
Gary Mourning, e-mail, 19.06.2011 18:57

In the summer of 1960 or 1961? I was part of a group of employees of Bay Aviation Services at San Francisco Airport who went to Alameda NAS and towed (with tug boats) 2 Mars Flying Boats across the San Francisco Bay to SFO. The beaching gear was installed so we could tow the aircraft up the Coast Guard ramp and then down the north taxiway to the parking area on the old decommissioned 18 /36 runway. The aircraft sat there for several years and then were brought to airworthy condition and flown to Canada for use as aerial fire fighting tankers.
John Hughes, e-mail, 19.06.2011 09:28

As a child we lived in Asuncion, Paraguay and I remember flying the Mars flying boat to Buenos Aires, Argentina where I went to school. I think the airline was DOdero. Do you have any information about this or maybe it was another simular flying boat.
Do you have any comments?

COMPANY
PROFILE