LATEST COMMENTS23.05.2013 20:53



McDonnell F3H Demon
23.05.2013 13:26


Aermacchi MB.339
23.05.2013 13:19


Hindustan LCA
23.05.2013 12:50



Curtiss SBC Helldiver
23.05.2013 06:51



Junkers Ju 390
22.05.2013 23:36



Consolidated B-32 Dominator
22.05.2013 22:59



Vought XF5U
22.05.2013 16:18



Vought V-173
22.05.2013 06:34



Hughes H-4 / HFB-1 "Hercules"
22.05.2013 05:15


Horten Ho-IX / Gotha Go 229
22.05.2013 02:37



Lockheed L-1049 Super Constellation / EC-121
22.05.2013 01:30


General Dynamics F-111
21.05.2013 18:27



American Gyro AG-4 Crusader
21.05.2013 13:30



Convair 240
21.05.2013 00:43



Learjet 25/28/29
20.05.2013 22:34



Heinkel He 277
19.05.2013 19:54



Mitsubishi Ki-51 SONIA
19.05.2013 08:54


Republic XP-72
19.05.2013 07:02



NAMC YS-11
19.05.2013 06:21



Douglas DC-6 / C-118
18.05.2013 20:33



Boeing B-47 Stratojet
18.05.2013 18:27


Gloster "Meteor"
18.05.2013 02:03



North American F-86D / YF-95 Dog Sabre
17.05.2013 23:06


FBA 17
17.05.2013 22:03



North American FJ-1 Fury
17.05.2013 11:51



Avro 694 Lincoln
17.05.2013 09:10


Republic F-105 Thunderchief
17.05.2013 04:58



Beech Model 18
16.05.2013 15:41


Douglas C-133 Cargomaster
16.05.2013 15:40



De Havilland D.H.82 Tiger Moth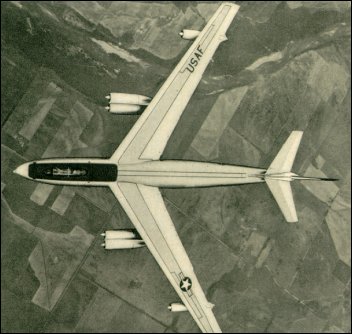 Walter White, e-mail, 18.05.2013 20:33

I worked flight line radio maintenance on B-47 43rd at Davis-Monthahan AFB from Aug 1956 to Feb 1958. Replacing the APN69 antenna was an adventure.
---
Paul D Szczerbinski, e-mail, 06.05.2013 00:41

I was a Airman First Class (E-4) stationed at Lincoln Air Force Base, Nebraska (SAC) from June 1960 to December 1963 with the 307th Field Maitenance Squadron. I worked on many B-47's as a Aircraft Instrument Mechanic. The B-47 was a beautiful aircraft and in most cases easy to work on.
---
Joe Bellini, e-mail, 04.05.2013 05:10

Was stationed 384 oms sac from jan1960 to aug63 looking for all you guys who worked as crew chiefs launching those B47e's
---
Robin Armour, e-mail, 01.05.2013 02:18

Robin Armour, e-mail, 5/30/2013
Aviation Cadet Class 57-U, piloted the B-47 from 3/'58 - 2/'66 w/509th Bomb Wing, Pease AFB, NH. Reflexed to Spain & England and North Africa. Flawless machine w/o a single mishap in over 3,500 hours, thanks to those terrific maintenance personnel. Thank you guys!
---
Phil Vaudt, e-mail, 13.03.2013 00:51

I was at Hunter Field 1960-1962 as a jet engine mechanic, 2nd Bomb Wing. Then sent to Lincoln, NE. I was able to become a run-up man as well as a flight line mechanic. Myself and another troop were the only ones on Mid-night shift and we kept busy. We changed engines by ourselves in record time and did other record maintenance on Alert Pad. I also had the privilege of being on flight status times as 4th man. Honorable discharge in 1964. I wouldn't trade those years for anything.....Phil Vaudt
---
Dewey Henderson, e-mail, 27.02.2013 03:42

Well someone had to build these things, I started in 1952 at Wichita KS along with about 25,000 others that were there. In about 1954 I move into B47 modification out on the ramp, where tore them down, replaced the 41 section (nose section) and took them to next level. Was there to watch the first B52 roll out the door. Today I spend my time modifying GA aircraft to glass cockpits, by cad design and CNC.
---
Bill Arehart, e-mail, 19.02.2013 01:06

A good old bird,I was stationed at Walker,Pease and Lincoln.TDY at Terrejon,Moron,Zaragoza and Upper Heyford.Wish I could do it allover again.
---
Phil Gatlin, e-mail, 18.02.2013 18:29

I joined USAF in January, 1955 and after completing my tech school at Keesler AFB, MS was assigned to Craig AFB, AL. Soon after my assignment to Craig the word came out the AF was looking for volunteers for Homestead AFB. My home was Miami so I jumped at the opportunity. I was stationed there from 1956 to 1959 in the 378th A&E Sqdrn. as an airborne electronics tech. I worked on the ARC-21 & 27, ARN-6, APX-6 and others. I was on the ramp one day during a max effort takeoff when a B-47 fully loaded crashed on take-off. There was a hugh fireball and the thought ran through all our minds, "I hope they're right about the bomb not being able to explode." Another time a 47 had smoke/fire in the cockpit and on approach the crew tried to eject, but were too low. No survivors. I had one TDY deployment to Rabat, Morroco for 90 days. We also loaded up on a C-135 for deployment to Lebanon (one of their "crisis"), but were turned back when the crisis was settled. I re-enlisted in 1959 and requested missile training. Again, timing is everything and they were looking for people to go into the ICBM missile training program. I was assigned to Vandenberg AFB, CA and was in first class to go through training on the Atlas ICBM guidance system. I was in the 575 Strategic Missile SQ. and was involved in several Thor (IRBM) and Atlas (ICBM) prep and launchings. I owe a lot to the AF for all the tech training and experience. I later worked for NASA flying to all the tracking stations around the world on a converted C-118 performing readiness testing during the
Apollo years and many scientific satellites.
---
William Smith, e-mail, 12.02.2013 17:51

Plattsburgh AFB, '64-'66; Weapons Load Crew, #2 man; loaded nukes for Alert Pad. 40th MMS, or Munitions Maintenance Squadron. Called "Mickey Mouse" Squadron. An airman painted two signs for our load truck, Mickey Mouse head, 40 MMS, Crew 7. WE were popular on the flight line. Pride of the North Country B-47 is on display in front of the "Old Base", which is now an industrial park. One commenter noted taxi exercise during Cuban Missile Crisis; I arrived in 64 and load crew guys were still talking about those days. A group of '47's did take off and landed at Burlington Vermont. Only time '47's from that base took off with nukes. Loaded Mark 28's, clip in packages, 1-4 bombs. Let's see more comments from Plattsburgh's glory days.
---
Bob Perkins, e-mail, 07.02.2013 22:18

I had the great pleasure of being a ground crew member on many B-47's at both Pinecastle AFB and advance party with the 28th BS (19thBW) to Homestead AFB in early 1956! Three TDY's to French Morroco and many great friends and memories!! This was a truly wonderful period in my life! The USAF is the greatest, and the Boeing B-47 was the most beautiful aircraft I've ever seen!
---
Ralph Graden, e-mail, 24.01.2013 21:24

I'd really like to hear from anyone that had been at Smokey Hiil AFB in KS.,between 1955-1959. I was an Aircraft Hydraulic Spec. with the 310th FMS. SAC of course. Gen. Lemay was our commander. I remember a TDY our wing took to Lakenheath in the UK & were there when the Suez Canal crisis happened. We were confined to our barracks for most of the 3 months we were there. Love the B-47 & can visit one here at the Pime Air & Space museum in Tucson. Great memories of friends & fellow airman, but have lost touch with them. Hope to hear from anyone that was there about that time. My phone is 520-393-1792.
---
Donell Youngblood, e-mail, 12.11.2012 15:09

I would love to hear from any of my old friends, who spent those long cold/Hot nights and days with me on the ramp of the 384th. bomb wing Little Rock A.F.B. trying to keep those B-47Es in the air. Also 3918 A.E.M.S Upper Heyford Eng.
---
Douglas Andrews, e-mail, 09.11.2012 22:25

I'm looking for information about my father, George R. Andrews Jr. When I tried to get a copy of his DD 214, I was told that it was not available and was probably destroyed by one of several fires at the St. Louis facility where his file was being stored. Anyway, He was stationed with the 379th Field Mainyenance Squadron at Homestead around '55 - '57. He was there when they laid all that rubber / tar on the alert ramp and the loaded B-47s sank up to their axles in that stuff. He then went to the 321st FMS at Pinecastle AFB and was part of the group who helped recover the remains of Col. McCoy's B-47 before they buried what was too far underground to recover. Sometime in the early '60's he transitioned to the 43rd FMS (B-58) st Carswell AFB and was there during the Cuban Missile Crisis. He then moved to Little Rock AFB with the 43rd in 1964. Somewhere around 1965 he trasitioned to the 75th MAS at Travis AFB as a C-141 Flight Engineer. At some point in the late 60's he transitioned to the 553rd Recon Wing (EC-121R) where he would be medically retired. If anyone has any information or stories about George Andrews, please email me at the email address listed above.
---
Bradford Electric, e-mail, 14.07.2012 20:31

The G.E. engines on this B-47 aircraft have the world famous Woodward type 1307 main engine controls. If you like prime mover control history check out the oldwoodward.com web site to read about the 1307 MEC training manual and much more.
---
Bob Stormer, e-mail, 04.07.2012 02:10

I was stationed at Little Rock AFB from the spring of 1963 to about the end of 1965. I was assigned to the 27th MMS as bomb loader, and it was my first assignment out of tech school at Lowery AFB in Denver, CO. Along with keeping the alert pad aircraft loaded, the most memorable event, unfortunately a very sad one, the crash that occurred during an ATO takeoff on Good Friday 1964. Most of the people on the flight line were watching since it was to be last ATO takeoff prior to the B-58 becoming operational. My crew chief, Vern Bollinger, and Joe Hand were very good friends. Joe was crew chief of the load crew who loaded the ATO rack on that plane. The load was a 20 bottle load, as opposed to the optional 30 bottle load. As I recall the aircraft was about halfway through the takeoff run with the ATO bottles lit when we saw flame coming out around the ATO rack. The aircraft continued takeoff, with the flames seemingly getting worse, and at what I guessed to be an altitude of about 500 ft and possibly a mile or two out, the tail exploded and aircraft nose dived, ending with a ball of fire. There was an flight evaluator on board with the normal crew since it was to be the last evaluation flight of ATO takeoffs from LRAFB. My crew chief volunteered us to go help with the crash scene investigation. We didn't get to the crash scene until Easter Sunday so the initial investigators could do their work on Saturday. We were able to find all pieces of the ATO rack which, after a long investigation and rebuild in one of the hangars, confirmed the ATO were intact through the entire takeoff. I believe determination was a fuel leak that was ignited when the ATO bottles were lit. It took a long time for the base to recover from that terrible event.

I also have some very fond memories of working with that aircraft.
---
Jim Dever, e-mail, 20.05.2012 05:45

I was assigned as an aircraft commander in the 68th Bomb Wing from August 1959 to April 1963. I recall flying test missions in late 1962 or early 1963 with conventional HE bombs being dropped on the range at Matagorda Island from the B-47. Also flew one out to the "boneyard" at Tucson in January 1963 as the B-47 era ended. It was some airplane.
---
CMSgt Benjamin W. Hines, USAF,, e-mail, 09.05.2012 16:12

I was assigned to the 373rd Bomb Sqdn, 308th Bomb Wing at Hunter AFB, GA 1953-1959, changed over to the 2nd Bomb Wing and was transfered in 1962 to Minot AFB, ND.

While at Hunter some of my Commanders were General Paul W. Tibbets/Colonel William Gray/Colonel Thomas Ferebee(who is laid to rest near where I live).

Was Crew Chief on the Bomber 47 for seven years. Went to Bomb Comp 1957-1960, won Best Nav Trophy 1960.

Led 8th Air Force with most on time take-offs 196 in 1961. And named Crew Chief of the year same year.

Served 31 year USAF, retired and currently serving in my 26th year as Register of Deeds in the County of Alexander, North Carolina. My car tag number is B47E2119. My favorite Bomber. Was an Honor.
---
SAM SOBERANES, e-mail, 07.05.2012 23:35

I A WAS Ist LT.IN THE 2nd BOMB SQUADRON, 22nd BOMB WING, 12th AIR DIVISION, 15th AIR FORCE STATIONED AT MARCH AFB FROM SEPT. 1957 TO FEB. 1959. FLEW AS A NAV/BOMB ON A LEAD CREW WITH MAJ CARL E.NELSEN AS A/C AND CAPT. JOSEPH OCHOTA AS PILOT. WOULD LIKE TO HEAR TO HEAR FROM ANYONE THERE AT THAT TIME, AND ESPECIALLY IF MY TWO CREW MATES IF THEY ARE
STILL ON TJE RIGHT SIDE OF THE GROUND.
---
Bob Shuman, e-mail, 16.03.2012 00:04

My post up above has my e-mail address wrong.
Anyone who was in the 2nd OMS Hunter AFB, Ga during 1960 to 1961 and remembers me please contact me. I retired as a MSgt in 1979. Left Hunter for Wurtsmith AFB, Mi. to work on KC-135s and B-52Hs.
---
Ray Sullivan, e-mail, 10.03.2012 19:36

The B-47 was my father, Glenn R. Sullivan's favorite airplane to fly in his 32 years in the USAF. He flew a wide variety of aircraft during those years. He flew B-47s at Hunter, Altus, and Dyess then transitioning to B-52s while at Dyess. One of my favorite childhood memories is driving out on the flightline to meet him coming back from reflex in Alaska or wherever. It was such a thrill to watch them land and then the hatch opens and the three deplane down the ladder. The fact that we could just drive out on the flightline, escorted of course, still blows my mind. One of my dad's very good friends, Lee Ellis, was killed in a B-47 crash in 1956 flying from Altus. It is a beautiful, very cool aircraft. For anyone interested in more B-52 lore, email me and I'll send the web address for a Linebacker II site.
---
PHILIP BOZANT, e-mail, 27.02.2012 00:23

I WAS A AIRMEN 1ST CLASS WITH THE 22 OMS MARCH AFB CALIF
ALERT SECTION (B47) MOTHER IN LAW C135 WAS ALSO THERE
BACK UP TO OMAHA . ANYONE THERE FROM 1959 TO 1963 LETS HERE
FROM YOU . GUAM WAS OUR ADVANCE STATION . I HAD A GREAT TIME WITH THIS OUTFIT EXCEPT WHEN THEY CLOSED THE BASE TO CHANGE OVER TO B52 .
---
Ken Smith, e-mail, 20.02.2012 02:41

Msgt Hall 343rd, I was sationed at Forbes 12/55 to 11/58.
I was with the 55th A & E during that time. I worked on the planes in the 38th,338th and 343rd as well as the tankers.
More than likely had a go with some of the electronic on your plane.

Ken
---
Robert Hancock, e-mail, 07.02.2012 05:37

How cool is this. I just happen to find this searching around about my favorite a/c B-47. I was at Hunter A.F.B. from 1956 thru 1960 2nd A&E Maintenance. Gunlaying fire-control sys. I have often wondered how to get in touch with some of the fellows I spent this time with.

I see where there has been an annual get together in Savannah. Any one with more information please let me know. What great memories from this part of my life.
---
Deborah, e-mail, 04.02.2012 00:55

I am trying to find someone who was in Smokey Hill Airforce Base back in 1956. I am searching for my father, whether he be alive or dead, as I would just like to have information on him. I tried to contact Harold Fish who was a ecm tech at smokey hill in 1955 but for some reason i can not send email not sure why. My father's name was and or is, Ross Arthur Taylor. He was married by Francis G. Giegel on the base to my mother Lavina on June 23, 1956. I was then born on November 14th of the same year. Please help me search for my father, even if it is a picture or at least something i can show my children and grandchildren. Thank you ever so much. I deeply appreciate any information you can give me. I know he spent time in the stockade and was dishonorably discharged but that is irrelevant to why i want to see what he looked like. Please help me. Thank you once again.
---
Richard Simons, e-mail, 21.12.2011 05:31

I was stationed at Hunter AFB from 7/1957 to 10/1960 Assigned to the 2nd A&E Maintenance Sq, as an ECM tech. Beautiful aircraft.Spent about half the time on the nite shift because all the married guys wanted to be home evenings....Great duty and midnite chow around 10:30 was good Tim Poston was my roomate in the "new" barracks and Ray Shatto and Bob Fountain were our next door neighbors.Got to take a weekend flight to Bermuda on a KC97 and along the way watched midair refeuling of a B47 from behind the boom operator, quite a treat for a young guy.We had our share of events including dropping a "bomb" near Charlston and one off the coast at Savannah Beach aka Tybee after a mid air collision between a fighter and a B47 that we still haven't found..Last spring attended a 308th/2nd A&E reunion in Savannah and saw guys that I hadn't seen in 50 years...THAT was a treat and I hope to go again next year
---
Tim Poston, e-mail, 18.12.2011 03:48

I was an A2/C gunnery sys. mech. 2nd A&E Maint Sq. 2nd.BW Hunter AFB, Ga. 1957-60. My pal in the next room was the guy who accidently fired the 20mm rounds into the ramp. They richocheted into the aircraft behind it. Just damage, no fire. The first b-47s had 4 .50 cal guns. All i ever saw had 2 20mm. 600 rds each. The pilot rotated his seat to the rear & fired after he used the radar sys. to lock onto the target plane. Great airplane. Great base. Anyone else stationed at Hunter AFB pls contact me if you wish. Tim Poston
---
Hubert Kraus, e-mail, 09.11.2011 19:35

Stationed at Pease AFB, NH from 1957 to 1959. Attached to Headquarter Squadron 100th Bomb Wing. Worked in administration in the Chief of Maintenance Office. Later transfered to Ben Gurier AFB Morocco.
---
Del Wilson, e-mail, 24.09.2011 09:50

I was trained as a Bom\\Nav tech from Lowry AFB Denver 1954 to early 1955. Trained on the "K" Systems on the B-47. Then Assigned to Barksdale AFB 376th A&E SAC in April 1955 then went TDY to Upper Heyford England in. Then back to Barksdale in 1956. Then to Homestead AFB 379th A&E SAC. in late 1956. in early 1957 again TDY to Rabat, Morroco North Africa ("Willie & Joe's YING-YANG Club") At that time K Techs were then flying 4th man on the B-47's. How effectve we were as flying Techs who knows? One of my flites I was bumped off by the Crew chief the plane crashed on takeoff. It was a sad I knew him he was just back from leave. I Had many Flites in the B-47 as a 4th man 4 and 8 hours in the crawl space of a B-47. The KC-97 was our Gas station in the sky. That was exitng for Nav and the Tech. The B-47 was the first Jet Bomber and possibly the test bed of the generations of all Boeing Jet A/C. In 1958 we were being replaced by the B-52's. All in all, what a Great life for a young man who had never been out of Eastern WA. I Later spent most of my working career in Eng. & Des. at Boeing in Seattle, worked on a couple of the new bombers. But if you were with Curt LeMays B-47 Bomb groups in SAC in the 1950's, there was no better life for GI's in the 50's. There are so many stories that could be Shared. A person ejected from the Nav seat on the runway, another released his bombay full of new JAGUAR Over the North Atlantic due to a bad engine (hope the crew chief wasn't in that A/C. I guess you could say the B-47 gave a lot of us a chance to see the World !!
---
orlevitch, e-mail, 30.08.2011 02:44

I was a crew chief on a b-29 when they made the switch to the b-47 in 1953
I was at Barksdale with the 353 bomb sqr 301 bomb wing.
It was the best time in life.
---
Robin Armour, e-mail, 21.08.2011 17:39

Aviation Cadet Class 57-U, piloted the B-47 from 3/'58 - 2/'66 w/509th Bomb Wing, Pease AFB, NH. Reflexed to Spain & England. Flawless machine w/o a single mishap in over 3,500 hours.
---
Charlotte A Rinck Knapp, e-mail, 10.08.2011 20:04

I came across the obit of 1st Lt Samuel George Harding in the files of the Collinsville Historical Museum. Harding was killed in a B-47 crash at Biggs AFB, El Paso, TX. The aircraft had been diverted from Schilling in KS to another base. The crew chose to go to Biggs, but apparently the gages weren't quite right and they did not have enough fuel for the journey. Harding was the only one killed.
The problem I have is that there is not incident date or obit date. How would I find that and other info concerning incident?
---
Tom Ellis, e-mail, 13.07.2011 04:00

I was the crew chief of the first B-47 delivered to Davis monthan AfB . In tucson Az. 52-223 named City Of Tucson # II. My Ac Was C.P Elder .Nav. Col King And Copilot Bob Langley. They were lead select crew in the 43rd bomb wing . Of all the Aircraft that I worked on The B-47 was my favorite
---
Donald T. Johnson, e-mail, 23.06.2011 22:37

I was a crew chief on the 47 stationed at Pinecastle/Mc Coy AFB in Orlando, Fl. 1955-57. 321st Bomb Wing/447Bomb Sqd. Col Barr was Sqd Cmdr
Col Mc Coy was killed during Bombing Comp in the plane parked next to mine and had the base named after him.
---
Dick Knapp, e-mail, 14.06.2011 23:21

Commissioned thru Aviation Cadet program, Harlingen, class 60-15. Was the Nav-Bombardier during training at McConnell 1960, then Navigator on EB-47's at Lockborne 1961-65. Flying ECM missions was pretty boring for a navigator - no low level or bombing missions. Three-man bomber crew was navigators' mission. Spent five years at Offutt in computers and got out instead of going to large B-52 crew. Joined ANG at Lincoln and flew RF-4C Phantoms for 14 years. Retired after 22 years as LtCol.
---
Mike Wray, e-mail, 08.06.2011 03:21

My Dad use to work on the B47's when he was stationed at Pease air force base in NH and his name is Harvey L. Wray. I have been looking for any body that new my Dad or worked with him ?
---
E.L. O'Bannon, e-mail, 19.05.2011 05:34

I flew the back seat of '47s in the 67th B.S., 44th B.W. while stationed at L.C.A.F.B., Dec.'56-Feb. '58. Was one of two refueling officers one day when a mechanic working on a plane from another base caused a spark, the plane caught fire and exploded, blew the mechanic clear but some distance across the ramp. Burning fuel spewed on the ramp and spread fire to an adjacent '47, and the two craft burned as ground crews successfully moved other '47s out of danger. Fuel also ran into the sewer system and eventually in to a coulee, causing some concern to the civil authorities. It was lunch time, I was eating a sandwich in a maintenance building nearest the first plane to go up. A young airman was so surprised and excited that when he jumped from his desk and bolted for an interior door in a partition wall, he missed the door frame altogether and punctured a hole in the celotex wall. Only a stud and a piece of framing kept him from going comletely through. The other refueling officer had gone home for lunch. When he saw the smoke as he returned to the base he assumed an accident had happened at the refueling station and believed I must have been injured or killed. My A/C was Major Shields, and my navigator was Lt. Williams. The Exec Officer of the 67th at that time was Major Killy, a very fine man and respected flying officer. Later he was transferred to Omaha, where I learned he was involved in the development of the airborne control system Gen. LeMay had ordered. If anyone knows the tail numbers of B-47s assigned to the 67th in those days, I would appreciate the information.
---
Ron Strauss, e-mail, 12.05.2011 04:46

Was c/cAt Homestead AFB 1957 1961 19 BW. Same At Little Rock 70BW 384.C/c Pease 1963 66
---
william krumholz, e-mail, 20.04.2011 06:30

The B-47 is my favorite , probely the most beautiful plane ever built . l955 stationed a Lincoln. USAF 55-59 .
---
James L. Alexander, Jr., e-mail, 24.03.2011 08:11

After graduating from Pilot Tng. Class 55K March 30, 1955 I went to B-26 training. From there I was sent to Plattsburg AFB in the 380th Bomb Wing. I was immediately sent to McConnel AFB, Witcha, KA for co-pilot training. My aircraft commander washed out and I was left floating around until Feb. 1957. During that time I got 3 bad OER's which I did not know I had gotten which caused me to be pasted over for Major twice and released from active in 1970. After I got on a crew I flew as copilot until April 1960 when I was upgraded to Aircraft Commander. I loved flying the B-47 but the alert duty at P'burg and reflex duty to England was very tireing. In 1963 I spent over 3800 hours either on alert at Plattsburg or at Brize Norton RAF. I was chosen to be transfered to B-52's but didn't want that and got it canceled. I then went to MAC and flew C-124's at Travis AFB, CA. I went to DaNang, Vietnam in March 1966. Then to Charleston AFB, SC in C-124's and then to a Laision Unit in Panama. I flew part time there in C-118's. I was released from active duty in June 1970 and finished my career in the Air National Guard and Reserves. I retired in 1978.
---
Bob Neel, e-mail, 11.03.2011 01:58

Graduated pilot tng 54F. Had washed back late from 54D because of some minor surgery. Was among the first to be sent to B-47 right out of pilot tng. Went to 358th BS/303d BW Davis-Monthan at Tucson. Flew the back seat. B47 was a gret airplane once the ejection seats were made to work. Only stayed in AF 4+ years - 1953-57. Served under R.C. Dougherty when he was a mere LC - our Squadron CO. You could understand why he would make 4 stars -- he was a real smart guy and a real gentleman. We were the first B47 outfit to rotate to Anderson AFB, Guam. Made Select on LC R.B. Smith's Wing standboard crew S-14; was spotted to Capt Mar 57 and was released from Active Duty Mar 31 '57 when my time was up. LC Smith never made a TO or landing while i was with him -- he said if we ever went to war and anything happened to him he wanted to make sure I could get him home and on the ground. Great guy!! I tested his landing clean-up skills several times when I was first assigned to his crew!! Because of the normal rough air in Tucson area we were really good air refueling people.
---
Royal Melcher, e-mail, 07.03.2011 05:41

Stationed at Hunter AFB Savannah, GA, 1957-1960 8th AF, 2nd Bomb Wing, 2nd OMS. Mainly maintenance until transfer to Alert Line. Reflexed to Nourasseur, Morocco in '59. Had the tail twin twenties fire 6 rounds into a '47 parked behind. '47 landed with 20 ft of wing missingand used it for cannibalizing parts. '47 burned to the ground from fumes ignited by a scooter started 150 ft away in a gulley. Created coral reef off Savannah when 20 sets of JATO racks ejected into Atlantic.
---
Cary Bratcher, e-mail, 28.02.2011 21:47

My dad, Lt. Col. Douglas Howard Bratcher, was killed in this aircraft during a refueling mission on Dec 4, 1953 just ourside of Tucson, AZ. He was the commander of the 360th bomb squadron, 303rd Bombardment wing.
---
LTC (Rt) Ray Burke, e-mail, 24.02.2011 06:55

Flew the RB out of Lockbourne from 1953 - 1957. Great airplane. Pleasant memories.
---
LtCol-Ret Jack Kovacs, e-mail, 15.02.2011 20:38

Was in the 55th SRW at Forbes from 1958-1964. Flew as copilot on RB-47H's and EB47E-Tell Two aircraft. The "H" models flew missions off the coasts of Russia, Cuba, and other Cold War enemies landmasses. The "H" was an ELINT collector, collecting Electronic signals, such as finding out where the Russian radar coverage was. With a home base at Forbes, the 55th TDY'd to England, Alaska, Japan, and Turkey plus anywhere needed by JCS. The EB-47E Tell-Two was a TELINT (telemetry intelligence) collector and operated out of Turkey into the Black Sea or Iran, to collect against ICBM/Space vehicle launches; and sometimes into the Pacific to collect inbound telemetry against Russian shots into the Pacific missile range. The Tell-Two mission was flown off no-notice alert. We bunked a mile from the airplane and could be off the ground 11 minutes after we were alerted. Usually happened about 2-3 am.
---
Ron (Tex) Cade, e-mail, 02.02.2011 23:13

12th Bomb Sq, 341st Bomb Wing~ Blood, sweat, tears and nerves: all required to maintain this bird. I really came to appreciate this machine. When the OMS concept came about I was a roving crew chief. I got to work on many of them at Dyess AFB,TX. Lots of help from all the support guys-A&E, FMS,POL,Weapons, Cooks, Supply-you name it. Worked with a lot of great people. When the ice storms came our Wing Commander decided if we ran-up enough engines with the exhaust going toward a given airplane, it would be de-iced. Let me tell everyone--we couldn't put out enough BTUs to do that job, a fore-runner to the global warming myth. The best sheet metal was on those made by Lockheed. Earl(Blanket)Parks was a fun guy to work with. Never knew what happened to those missing outrigger down-locks that didn't return after a training flight--they were stowed in the bomb bay,remember. When the Navigator's escape hatch fell onto the ramp during a crew preflight it was discovered the nav had a bag under his seat and when he lowered the seat it triggered the ejection cycle but only partly. Didn't make that on-time take off nor the time when a LOX converter blew just after preflight. I had to ask the camera guy what the K-17 camera was used for and he said just keep the window clean chief. My third AFSC was a Photo Interpreter with the SR-71 and learned a little bit about reconnaissance cameras and satellite imagery. In the Vietnam experience I learned the B-52 had a K-17-lots of Arc Light images by the K-17. I visit frequently now with a B-47 navigator and pilot. They loved this machine. Cheers!
---
maury marler, e-mail, 30.01.2011 07:24

I was stationed at Forbes AFB KS when the 90th and 55th SR wings converted from B-29/RB-50's to RB-47's. What I recall of the RB (and alluded to by Lt Col Reddington [12-25-10]) is that at about 450 kts IAS the ailerons tended to become trim tabs, and creating a condition called "aileron reversal. Good airplane, though. And the camera systems were simply superb.
---
Dave Williams, e-mail, 28.01.2011 04:58

After jet acft tech school in Amarillo TX I was assigned to the 340th BW Whiteman AFB MO. I arrived in April 1962 and was assigned to the FMS. Two days after I arrived at Whiteman a B47 sitting on the ramp in front of base ops burned to the ground killing several base firemen. I was there when a B47 called the "Sooner" flew into the base and became the B47 static display that is still at the base today. I left Whiteman in May of 64 and went PCS to the 4960th BW Anderson AFB Guam where we sent B52s on sorties to Nam. Today I live only 18 miles from Whiteman but every time I go to the base I make it a point to go by the old "Sooner" display and remember all the great people and the good times I had at Whiteman. Great airplane!!!!
---
Frank Ghegan, e-mail, 10.01.2011 05:13

Correct Ph. Nr. 501-258-8306
---
SMSGT Frank Ghegan Ret., e-mail, 10.01.2011 05:05

Crew Chief B-47, tail nr. 2366, Lake Charles AFB La. later named Chenault. (July 57-Sept.61. Lockbourne AFB later called Rickenbacker AFB Columbus Ohio. B-47 and KC-135. Flew in B-47 TDY to Brize Norton, Fairford and Uper Heyford England. 51 Bomb Sqd. 68th Bomb Wing. 501-258-5653
---
Chuck Styles, e-mail, 10.01.2011 00:42

I spent four years loading weapons on the B-47s I was in the 34 th Munitions Maintenance Sq .Being a loading crew chief I spent a lot of time on the flight line . Anyway the plane belonged to me when loading nukes . When up loading or down loading and could not get off the flight line we could eat in crew mess hall at leased great chow . Sure was cold in Lincoln no fun in the winter time .Great air plane .
---
Wm. Gene Brack, e-mail, 06.01.2011 21:08

Introduced to the B-47 at Amarillo AFB back in 1956...received training...then shipped to Castle AFB and introduced to the B-52's & served on "B Model" tail number 007" and later models. This I remember about the B-47's A/C...it could actually blow snow into your face and lap...brrr very cold...nice while needed!
---
Lt. Col. Ivan Reddington, e-mail, 25.12.2010 01:28

I was assigned to B-47 training out of Pilot Training Class 60A. Stationed at MacDill AFB, FL for 3 years then to Lockbourne AFB and the EB-47E for a couple of years. We reflexed to Ben Guirer(SP?) and Brize Norton England. We spent most of our time on alert and did very little flying at MacDill. The airplane was very pleasant to fly when it didn't have the wing tanks mounted. With the wing tanks on it was limited in roll control. As copilot, I was mostly a flight engineer. We opened the tanks during refueling and distributed the fuel to keep the CG within limits. We asssisted the Nav by shooting the sextant for star and sun shots. We did most of the radio communications operated the ECM operated the tail guns. Seldom actually flew the airplane.
---
Mike Minogue, e-mail, 24.12.2010 19:38

Forbes A.F.B., Topeka, Kansas. 1957/1960 90th Field Maint. Squadron, Aero Repair. Landing gear, fuel tanks,all movable surfases, canope seal replacment. Many great memories. Any of you guys still out there?
---
Gerald (Jerry) Swisher, e-mail, 17.12.2010 21:28

In the early '50s, I was a S/Sgt. supporting the K-System (Bomb/Nav) in the first operational B-47 Wing; the 306th BW out of MacDill AFB (Tampa, FL). Everything about this aircraft was "cutting edge" at the time. We went on to prove it's capability as an outstanding and advanced weapons system that filled the skies around the world, a major deterrent to America's foes in the '50s. In '53 and '54 I was selected to represent the Wing as a Bomb/Nav Technician on our aircraft at Strategic Sir Command (SAC) Bombing Competitions. We did not win! It would take several more years of experience before the B-47 crews were able to to "take the prize". After discharge ('55) I went to Georgia Tech in Atlanta and worked nights on the flight line at Lockheed in Marietta, GA; once again on the B-47's Bom/Nav system (a more advanced version). I also supported the development and testing of the first two "drone" (no in-flight crew) B-47's, made to test the accuracy of the newly-developed BOMARC Surface-To-Air Missle System. All-in-all, supporting B-47 programs, in it's early years, was a once-in-a-lifetime experiences, never to be forgotten.
---
Bob Schure, e-mail, 12.12.2010 04:47

Good old Pease AFB, NH , 1958 to 1962 with 807 HQ, but spent more time on the flight line with the 100th and 509 th Bomb Wings. We had one guy hit the seat release while in a hanger. DOA. Another taken in pieces my an acident with the one 20 left in the tail. We didnt lose any B-47, but several KC97 "flying coffins". We loaded many a 22 oin the tail , JATO Bottles and A Bombs. We lost one guy one night on the flight line when we were out there cleaning off the landing lights. Found the new day frozen (20-30 below on the flight line). I got to meet BG Jim Stewart in Las Vegas at the Gathering of Eagles in 1982.

There is one B-47 left at Whitman AFB and there was one a Pease years ago. 'GOD BLESS ALL OUR VETERANS AND AMERICA"
---
Conrad Schaefer, e-mail, 06.12.2010 03:58

From 1953 to 19555 worked on the K-system on the B47. Sent to Pinecastle A.F.B. Orlando, Fla.. middle part of 1955. Helped to set up shop for the B-47. This was the 19th bomb wing. Served in French Morroco with the 30lst. from Barksdale and later with the 19th. from Pinecastle.
---
GLENN PETERSON, e-mail, 24.11.2010 19:28

WAS AT MCCONNEL AFB MAY 60 TO JULY 62 FIELD MAINTENENCE SQUARDON B47'S.TRANSFERRED TO MT HOME AFB JULY 62 TILL APRIL 64 SAC B47'S. ORG MAIN SQUARDON. REFLEXED TO GUAM TWO TOURS 90 DY TOURS TO STAND ALERT.
---
JimKuhn, e-mail, 14.11.2010 06:26

I was a crew chief on B-47's while stationed at Lincoln AFB, NE from 1961 to 1964. I was with the 98 Bomb Wing and spent many TDY's on alert at Upper Heyford RAFB, England and Zaragoza AFB, Spain. I was one of only a few crew chiefs that was on flying status and actually flew on the great plane.
---
Doug Gilchrist, Lt/Col, Ret, e-mail, 09.11.2010 02:54

Graduated w/cadet class 53-F. Flew RB-47E's as an Aircraft Commander 1957-1960 at Lockbourne AFB.First flying safety meeting after I got there the old man was raising hell about some "jockies" rolling his B-47's.Co-pilot and I looked at each other and agreed he HAD to be kidding..That thing was BIG!After we got checked out and proficient we found it handled like a big fighter. Small envelope, but if you stayed in it you could do almost anything!After more practice and conversation with Nav we found out it COULD be rolled!!Lost some friends before the weakness of the "milk bottle" on the wing root would break and allow the wing to fold back into the fuel tank was discovered and "little herby" on rudder control could give unwanted hard over signalwas fixed was a little scary.Other than that it was a fantastic airplane..Went from there to 102 missions in C-130's in Vietnam then back to SAC and B-52's at K.I.Sawyer. Retired in 1972 after a great career..Any common memories???
---
"Dutch" Hull, e-mail, 07.11.2010 20:53

Stationed at Lake Charles Air Force Base,La. 1952-1956.Crew chief on B-47 AF 5235.68th Bomb Sq.44th Bomb Wing. Spent about a few dozen hours in the "suicide seat" below the co-pilots seat which happend to be a step with a safety belt. The only way out was the door you came in(no ejection seat).You better make sure your aircraft was in tip-top condition at ALL times.She went to Morroco,Labador,etc a few times and many a bombing competition. Had the privilage of the base commander flying her frequently.Although it was the Korean War period we were in the Cold War with Russia.We were avoiding the mass destructiion of a nuclear war with our system of deterrance with our modern tech B-47 Strato-jet Bomber.The Russian Bear was thinking twice about any action against the Stratigic Air Command.
---
David F. Wallace, e-mail, 30.10.2010 02:40

Was stationed at Eileson A.F.B. Alaska 1963-65.
Had B-47 converted into weather plan, on take off crashed into Air Police main gate.
---
Frank Schiffel, e-mail, 27.10.2010 00:35

My dad flew B-47s on alert from Lincoln AFB for SAC. He said they used to fly out to Gander for a check point and they never would respond on the radio when he did a position report. After that back in the 50s, maps still had 'unexplored' on vast regions of Canada, pretty much all white. That made him real comfortable if they had to ditch.

He said they used to joke there were 2 hydrogen bombs because if they survived the first drop there was a second one.

They used to drop practice concrete shapes out over Puerto Rico or something, airplane would jump up a few thousand feet when it released.

He also practiced the bomb toss maneuver. Something you could never do in a bomber now.

He was offered a squadron command in B-52s and turned his wings in. He said too many crashes early on. After 2 wars, Korea and WWII, and starting a family, that was pushing it.

He retired after going to Tachikawa AB, and died in 1972 and is in Arlington where he wanted to be.
---
Joe DuBois, e-mail, 08.10.2010 08:41

I was copilot on the B-47 at Forbes AFB from 1960 thru 1964, and I spent a lot of time on alert! In the 4 years flying the B-47 I logged less than 900 hours! I went to work for the airlines in 1967, and as an instructor I frequently used the B-47 as an example of why certain design features exist in modern commercial jet aircraft. I wish I had taken more photos of that bird!
---
DWWhalen, e-mail, 07.10.2010 02:17

I was in 2nd grade at Wheelus AFB when I saw the first B-47 land there in the very early 50s..my dad was Army Corps of Engineers who built the place. Right then I said. "I'm gonna fly one of them when I grow up!"...Well, I didn't of course, but I did go to Nav School at Mather in 1969 and as a Nav/RN/RSO flew over 2000hrs in the B-52 (Castle, Loring & SEA), 800 hrs in the FB-111 (P-Burg & Pease), and finished up with 700 hrs in the SR-71 (Beale and Dets. Along the way I met several guys who flew the -47 and they all loved it! You still out there Chuck Archie?
---
GERALD VAN BOXTEL, e-mail, 03.10.2010 19:44

I was stationed at Pease AFB,NH from 1955 to 1959 and was the crew chief on B-47 53-1905 known as the "State Of New Hamshire."What a beautiful bird even by todays standards. She was a little underpowered and we lost a bunch due to accidents but I will always have respect for her as she was the biggest deterrent, preventing war with Russia!
---
Joe Wright, e-mail, 26.09.2010 05:18

My first assignment after pilot training at Vance AFB in 1963was as a co-pilot in the B-47 at Forbes AFB in Topeka Kansas. All the formal schools were closed so I had a local checkout. (kind of a lick ad a promise). I was very grateful to other more experienced co-pilots including Greg Boyington for taking me under their wing. I went to Mt HomeAFB when Forbes closed. I went on reflex alert to Fairford RAF Base and Brize Norton RAF Base, and at the end, many of my flights were one way to DM. I flew 9 different aircraft in my 33 year career. My retirement flight was in a KC-135R in October 1994. I believe on that day I was the last active USAF pilot who had flown the B-47.
---
Larry L. Patterson, e-mail, 23.09.2010 02:53

I was an assistant crew chief on B 47's assigned to the 353rd Bomb Sg.Barksdale AFB, La Jan 1957-Aug 1958. Finished my tour at Chennault AFB, La in the 44 OMS. I was permitted to go on flying status on the 47's and enjoyed the flying experience. That flying experience lit a fire in me to seek an aviation career that ended in my retirement in 2005 with over 12k hours flight time. The USAF granted me the road and desire to fly.
---
Vernon L Lambert, e-mail, 21.09.2010 21:29

I was assigned to B-47"s out of pilot training and started 47 school the summer of 57. I was based at Whiteman AFB for 6 yrs and Lockborn AFB for 1 yr. I flew as co-pilot for 3 yrs and AC for 4 yrs. It was a good aircraft in it's day. I had a few emergencies in it but always brought it home.
Vern
---
Vernon L Lambert, e-mail, 21.09.2010 21:28

I was assigned to B-47"s out of pilot training and started 47 school the summer of 57. I was based at Whiteman AFB for 6 yrs and Lockborn AFB for 1 yr. I flew as co-pilot for 3 yrs and AC for 4 yrs. It was a good aircraft in it's day. I had a few emergencies in it but always brought it home.
Vern
---
Paul Lee, e-mail, 20.09.2010 08:30

Spent a year at Ben Guerir Air Base, Morocco, where a group of B-47's landed on Wednesdays to replace the group that had been there for a week. After transferring their loads to the new arrivals, they loaded up all kinds of things into the bombays before taking off to return stateside on Thursdays. Spent time from July 1957 to July 1958 in the control tower as a weather observer,
---
Julia Dent, e-mail, 16.09.2010 19:06

Hello, My father's name was Capt. John F. Dent, Jr. , last stationed at Barksdale AFB,La. He was killed on Dec 6, 1953, when his plane-a B-57- crashed on base.Unfortunately his crew was lost also from what the obituary that I have says. I have been trying for years to find information about him, and am unable to ask my mother because I lost her when I was 11.
The day he died was my 4th Birthday . If there is anyone who may remember my parents or this event , please contact me at the e-mail above . They would have been 84 yrs young.
Sincerely, Julia M Dent
p.s. I do have an address of Upper Heyford, Oxford , England , and I believe he was in the Berlin Airlift .
---
Robert Ashby, e-mail, 10.09.2010 02:28

Trying to find Video of MITO Takeoff of B-45's (Pease AFB if possible). Also JETO Take off video

Thanks for your help
---
Red Ryder, e-mail, 08.09.2010 18:12

Stationed at Hunter AFB 53-57 308 th A&E What a great group George T Smith was 1st SGT. Worked in A-5. A lot good memories. Keep cool all you Bus Drivers.
---
Allan Embrey, e-mail, 08.09.2010 07:04

I was stationed at Davis Monthan AFB, 1961 until the wing broke up in 1964. I was in the 303rd bomb wing and was transfered to the 310 bomb wing in Salina, Ks. I have some great memories of flying and working on the b-47's.
We had some very good planes. When our wing broke up they were sent out to replace other planes at other stations. I live in Little Rock, Ar. , and I have flown on the B-47 on display at Little Rock AFB. I had a little over 200 hours flying as 4th man on a b-47. If you think you know me call me 501-834-5374
---
Jim Hutcheson, e-mail, 06.09.2010 02:37

Crew chief, Blytheville, 1966-1972, UT, 72-73, Seymour-Johnson, 73-77, SAC underground command post 77-1980. I think there needs to be a correction on the above listed Weight-basic is around 180,000 lbs. I'm just saying. I loved the "G". I was on non-crew flying status for 12 years. Got to travel all over. Several bombing missions over Nam.
---
Jim Alexander, e-mail, 29.08.2010 09:11

I was assigned to Plattsburg AFB in July 1955. I was the 27th officer to sign into the officers club. Went to McConnell AFB for training in the B-47. Upon return to P'Burg I did several jobs other than flying. The base was not finished. I helped run the officer's club from Nov. 55 to Jan. 56. The wing (380th) was sent to Pinecastle AFB, FL for training until the base was ready to operate. I was left behind and fell behind all my buddies. I finally got on a crew in Feb. 57. We spent a 90 day tour at Brise Norton in England April through June 57. I managed to get upgraded to AC in June 60 and flew as that until July 64. I went on 22 reflex missions to Brise Norton or Greennon Common and was at Brise when the Cuban Missile Crises started. I will never forget the afternoon when the klaxon horn sounded and when we got to our aircraft the first message we got was to taxi to the runway and wait for further instructions. After about 25 to 30 minutes we were told to return to our parking spots. I logged about 1900 hours in the B-47 and really enjoyed flying it. I really loved the air refueling and low level. The delay in getting on a flight crew and then turning down an assignment to B-52's really hurt my carreer. I flew about 22 missions to southeast Asia in the C-124 (old shaky), spent a year at DaNang in a command post, and my last 2 years of active duty in Panama in a Laision Unit. There I flew C-118's into Central America, the Carribean and South America. After DaNang I was at Charleston AFB, SC for 16 months and flew some missions down through South America, Assension Island, the Congo and South Africa as well as some to Southeast Asia. I went on retired status in 1978.
---
Charles Field, e-mail, 24.08.2010 06:52

From 1955 to 1960,I attended the University of Arizona at Tucson ,AZ. We were in the direct landing path of those B-47's and 36's landing at Davis Monthan after a long flight to the edge of the Soviet Union.
As a result they were very low with a deafening roar. I had one engineering professor who stopped talking whenever one came very low and just above campus. He stood in silence for a minute or so. Then he said "We respect the AF here so much that every time one of those comes over we show our respect by giving them a minute of silence". We all smiled. Many of us were under the GI bill and had been in Korea. Everyone was truly respectful because all knew what they were doing and where they had been and what they were carrying.
I have about a 15 second portion of an 8mm movie from a cheap Brownie camera of the last B-36 landing. 1957???

I lived a block from the "Bone" Yard for years . Then they had thousands of WWll aircraft, yes P-38s and 51's and a "million" B-47 all lined up for miles. I was told that the only plane that was destroyed was the B-36 because of the gold in them. Soon they destroyed all.. How sad.
I now live a few miles South and belong to the Arizona Aero Club. We have about 80 members. A few from the 8th AAF from WWll who flew the B-17's. Several who flew the B-47's, B-36's and one a P-38 Ace. Many B-52 airman and recently a Marine One pilot. The most notable member. "The Candy Bomber " from the Berlin Airlift.
It is a temendous honor to rub elboes with these men every month during meetings.
God bless our military and the USA
C.W. Field
---
Carlo Gagliardi, MSgt Ret., e-mail, 21.08.2010 07:57

I was stationed at Hunter Afb from 1954 to 1959 in the 2nd Field Main Sq. A J47 Jet Engine mechanic, then supervisor of the Jet Engine Shop, attached to the B47 aircraft, 2nd Bomb Wing. Anyone there remember?
---
Kate, e-mail, 19.08.2010 06:36

Hey Bob Shadbolt - my Dad was at Lockbourne AFB in the 60's; my twin sisters were even born at the hospital on base. He also worked on the B-47 but I don't have much information on what he did; he will have to come here and tell his story. The B-47 was a cool plane.

I would like to make one little comment on the author's commentary on this page in describing the history of the B-47; that is, the word "attack" used to describe the bombing on Japan wasn't really an attack was it?, I thought it was more of a response or retaliation for Japan blowing the hell out of Pearl Harbour? Maybe I am wrong.
---
Don Persinger, e-mail, 28.07.2010 02:05

I was a weapons loader on the B-47 at RAF Lakenheath, Nov. 1954 to Feb. 1957, and at Homestead AFB from Dec. 1957 to August 1959. I also serve with in the HQ Sqdns of the 19th BW and the 379th.BW at Homestead AFB. What a great Air Plane, The Queen of the Skys
---
Jon McLean, e-mail, 21.07.2010 20:39

While a missileer at Grand Forks AFB, ND in 1971 or 72, I saw a Navy B-47 on the ramp. It was obviously an ELINT collector; it bristled with antennas.
---
John T Abell, e-mail, 10.02.2010 21:56

I flew the B-47E from Schilling AFB Kansas from 1956 to 1961; first as co-pilot and then as Aircraft Commander. Had frequent deployments to Greenham Common and Mildenhall England. We were low level qualified, flying Hairciipper missions for training. Flew several USCM missions of over 16 hours with two refuelings and simulated bomb runs on Boston and Paris RBS sites.
---
Bill Northcutt, e-mail, 04.02.2010 23:24

worked on these at Upper Hayford England. ECM from Lockborne bombers from Pease. We had only alert birds. They were a fuel leak waiting to happen.
---
gerald m.causey, e-mail, 03.02.2010 02:56

I was an engine maint. supervisor # 3 -J-33 at Hunter air force base in savannah ga.in the 50's 60. I was asiged to the 2nd and 308th wing. the b-47 was my main A/C I also worked on the KC-97, t-37 tweety bird,etc. and of course there was TDY....
---
RONALD EICHER, e-mail, 02.02.2010 16:24

I CREWED ONE OF THESE BIG BABIES,I THOUGHT IT WAS A GREAT AIRCRAFT.THIS ONLY LASTED ABOUT SIX MONTHS BECAUSE THE A.F. COME OUT WITH AN ORDER ONLY STAFF SGT COULD CREW.REALLY A SLICK LOOK'IN JET.STATIONED IN LITTLE ROCK ARKANSAS 70th OMS.
LOVED IT WHEN THE WHOLE SQUADRON TOOK OFF IN ONE MINUTE INTERVALS IN AN ALERT SYSTEM .THERE GREAT,SLICK ,PLANE IN IT'S TIME
---
RONALD EICHER, e-mail, 02.02.2010 16:20

I CREWED ONE OF THESE BIG BABIES,I THOUGHT IT WAS A GREAT AIRCRAFT.THIS ONLY LASTED ABOUT SIX MONTHS BECAUSE THE A.F. COME OUT WITH AN ORDER ONLY STAFF SGT COULD CREW.REALLY A SLICK LOOK'IN JET.STATIONED IN LITTLE ROCK ARKANSAS.LOVED IT WHEN THE WHOLE SQUADRON TOOK OFF IN ONE MINUTE INTERVALS IN AN ALERT SYSTEM .THERE GREAT,SLICK ,PLANE IN IT'S TIME
---
Jim Dodds, e-mail, 29.01.2010 05:09

I was a Crew Chief on them with the 441st at March AFB and the 339th? at Altus AFB 1953-1957
---
AL, 22.01.2010 03:06

I remember seeing a squadron of B-47's at Macdill in 1963. Does anyone know which outfit and base they were TDY from?
Thanks.
AL
---
Frank T. Hayes, e-mail, 15.01.2010 05:27

From Jan. 1952 to Jan. 1955 I was at Lockbourne AFB, OH with the 91st SRW, first RB-45C and KB-29P tankers, replaced by RB-47E and KC-97 tankers. I was in A&E Radar and K-Systems. Our first big operation was Fox Peter One on July 4, 1952 when our KB-29s refueled 31st SFW F-48Gs on the first transPacific flight to Japan. My next was to Westover AFB with our brand new KC-97s in September to air refuel the first enmass transAtlantic flight of B-47Es by the 306th BW from RAF Fairford to MacDill. My last deployment was with eight of our brand new RB-47Es to RAF Fairford in April 1954. On May 8, 1954 one of our RB-47Es crewed by Sgt. Phil Van Deusen and piloted by Capt. Harold Austin made a photographic reconnaissance over-flight of the Soviet Union Kola Peninsula, got intercepted five times and came out over Finland with MiG17s on their tail. In Sept. 2009 we published a book with the rest of the story titled, "We Served With Honor." I thank all of you for your service in SAC. God Bless America, Frank Hayes
---
Bob Shadbolt, e-mail, 11.01.2010 21:11

I noticed noone from Lockbourne afb in ohio,I started on RB47Es as an asst then a year later I was a C/C. I remember we where changing over from The RB 47Es To ECM47Ks I think Iremember on the last 2 planes to land a Lockbourne they ran into a flock of birds and damaged 3 Wing leading edges, $100000 each .Plus many man hours, The crew they started with spent 8 hours and was grtting no where and the Brass wanted them gone by the next day,I dont know what the rush was they waste300000 dollars to go get cut up for scrap ans saved all the good spare parts they could. A crew of 6 of us took the job and I WENT TO SUPPLY AND GOT THE TOOLS WE NEEDED Air guns and hex head for the bolts, one guy started removing the screws and we would usehex wrenches to break the bolts loose 4 in each hole and the next guy would come behind him with the air guns, # hours later the line chief came over with food and couldnt beleive we had them off wait for the guys from field maint. to check the elinement of the bolt holes so we could get them back on , By midnight we had both planes being refuled. The next year I went to open a new wing of B52s and KC135s
---
Bob Shadbolt, e-mail, 11.01.2010 21:10

I noticed noone from Lockbourne afb in ohio,I started on RB47Es as an asst then a year later I was a C/C. I remember we where changing over from The RB 47Es To ECM47Ks I think Iremember on the last 2 planes to land a Lockbourne they ran into a flock of birds and damaged 3 Wing leading edges, $100000 each .Plus many man hours, The crew they started with spent 8 hours and was grtting no where and the Brass wanted them gone by the next day,I dont know what the rush was they waste300000 dollars to go get cut up for scrap ans saved all the good spare parts they could. A crew of 6 of us took the job and I WENT TO SUPPLY AND GOT THE TOOLS WE NEEDED Air guns and hex head for the bolts, one guy started removing the screws and we would usehex wrenches to break the bolts loose 4 in each hole and the next guy would come behind him with the air guns, # hours later the line chief came over with food and couldnt beleive we had them off wait for the guys from field maint. to check the elinement of the bolt holes so we could get them back on , By midnight we had both planes being refuled. The next year I went to open a new wing of B52s and KC135s
---
Jim Avey, e-mail, 12.12.2009 18:24

Another old vet checking in.

Today was a great day! I was just playing around on the computer this morning and on a whim I typed in my great-grandfather's company and regiment during the Civil War, and man, I hit a mini-jackpot! I learned a lot about his outfit that I had never known.

Then, still on a whim, I typed in "43rd Periodic Maintenance Squadron" and hit the jackpot again! I found this site and I'm still trying to digest all I've just read. That's going to take some time, so I think I'll throw out my few crumbs and see if anyone shares memories with me.

I entered the Air Force from Iowa, in March of '53, went to basic training at Lackland AFB, then to tech school at several places but primarily at Amarillo, Tx. From tech school I was assigned to Davis Monthan.

I and several others got there when the 3 bomb squadrons of our wing were still running B-29s. I got to turn a wrench a few times on those old beasts, but mostly we just waited for the B-47s to arrive. That's the one and only "down" time I remember from my service days.

We were a periodic inspection squadron, so that's what we did. I think we actually had some folks assigned to work on the KC-97 tankers, but I'm not sure. (And I ought to say, before you figure it out for yourself, that I was never had a great memory and being 76 doesn't help. But I'll do the best I can.)

Most of my time was under dock chief Tech Sgt. M.S. Collier, as fine a man as I ever worked for. At the time of my discharge I was the APG chief and a Staff Sargent. I got out at the end of my 4 year enlistment, thinking - accurately - that I could make more than $164 and change a month in the civilian world. I did, too, but I failed to take proper account of the many fringe benefits the USAF offered. Many times I've regretted getting out when I did.

For some reason I was only on one TDY and that was to Fairford, England. I can remember that I had my 21st birthday while we were there, so that means it had to be in the fall of '54. I could have gone on the next TDY to Okinawa, but I would have had to extend to do it. Of course, I was in a big toot to get out, so I didn't do that.

I never got to fly in a B-47 either. I was jealous of the crew chiefs who occasionally could, but that's life. Basically I enjoyed being a B-47 mechanic.

I remember(?) one incident involving the bird. Again, as I recall it, we were on that TDY to England when this happened. Some bird colonel named David O. Burchinal - I'm really fuzzy on the spelling of his name - took one of our birds, fresh out of our docks, and started flying back and forth from England to Africa. I recall hearing that he and his crew flew for 47 hours and some minutes before landing again, and had no troubles whatsoever. I also heard via scuttlebutt that he got a star out of it. Supposedly, it was a new endurance record. Coulda happened. And another time some real BIG biggie flew a 47 in from California, and we drew the task of post-flighting it. I was told "Check it all over, but DON'T CHANGE ANYTHING." I damn sure didn't.

The only notable world event I remember during my enlistment was the Suez Canal War - remember that? Our base gates slammed shut and no one got out for the duration. I know that I had to share my bed with some poor married guy. We worked something like 16-on-8-off for DAYS until time just got to be a blur. And we worked almost to exhaustion before we came back to Arizona from England. The birds needed a lot of care before the long trip.

One more story. This is strictly scuttlebut. The word went out, once we were back, that one of the officers bought a little sports car in England, hung it from his 47's bomb davits, and it came home that way. Probably just one of the many stories that floated around.

I'll close with this. A few years ago I got a letter and then some phone calls from some old 43rd PMS guys, who were planning a reunion. One thing followed another and we did have that reunion. I went to it and several others before deciding I didn't have the enthusiasm to keep on doing it. But I think it's still going on. I might be able to put someone in touch with some of those guys, if you want.

It's been fun to write this. Anyone who'd like to communicate, well, I've listed my email address,and I'd love to hear from you.

jim avey
---
Bob Shuman, e-mail, 21.11.2009 01:31

I was assigned to Hunter AFB Georgia after tech school. I was the assistant crew chief on B-47E 53-1955. SSgt Gerald Lambniak,(spelling?) was my CC. Of my twenty years in the AF. This was the best. The Air Force was good to me, most of the time. I retired a Master Sergeant in 1979. The B-47 is the most beautiful aircraft ever!!!
I live in Sumter SC now. Anybody who remembers contact me.
---
Kelsey R., e-mail, 13.11.2009 17:25

Hi. My partner and I are doing a history project for my high school on the B-47 Stratojet bomber and we would love to do an interview with any pilots, copilots, or anyone involved in the production of the plane. If you are interested please send me an email!
---
JOHN Z SMITH, JR, e-mail, 10.09.2009 08:21

I was in the 43red Periodic Maintenance
squadron at Davis Monthan AFB.My job was to disassemble various engine components of the B-47, inspect and reassemble.
Master Sgt. Boss was the dock chief and Staff Sgt. Jim Lane was the assistant.I used to love to watch those mass take-offs, after the third plane the runway was a cloud of black smoke from the jato bottles. Later we were transferred to the 303rd bomb wing where I was an assistant crew chief. Sgt Willie Caroll was the chief and sgt Blodgett and myself were assistants. Our A/C tail number was 037 and we never missed an on-time flight schedule.Later I was stationed in Morocco,North Africa. I enjoyed every minute of my 9 years in the Strategic Air Command.
---
Michael W. Wray, e-mail, 07.09.2009 20:01

My dad was stationed at pease air force base in NH and he worked in maintenance for the B 47 from 1960 to 1965 and his name is HARVEY L. WRAY and i was wondering if any body out there knew him and could you send some photos ? I have always wanted to see the in side of the B 47.
---
Dick Wilson, e-mail, 14.06.2009 23:12

No comment I was with 815th Recon Tech Sq at Forbes 1953 to 1955. We had one good softball team.--Willie
---
Bob Gilbreath, e-mail, 20.03.2009 05:52

I was an engine run up spec for th 43 A&E FM Sq. Jul 1953
July 1955 at old D.M.Never got to fly in one always in a KC-97 or a C-124 full of Engines. The Bomb Suadron I was in for a while at D.M. set a record for the most Hours in the air with a Nuke on board.I sure miss the guys I served with down there. I dont recall very many of thier names.
---
C N Gotch, e-mail, 12.02.2009 03:18

...and I thought I was the only guy in love with that big beautiful bird! Mid 50's, just a kid, but a S/Sgt in the 43rd A&E at DM performing A-5 Fire Control System Periodic Maintenance. What memories--on the flight line after a periodic inspection, watching takeoffs with JATO's a'blazing! I tried to picture myself pulling back on the yoke to rotate. Nope. Just a poor fix-it guy. Back to work.

Hey Joseph--Glenn Miller at the club? Kinda rings a bell. BTW, is your father a Cardiologist in Cottonwood AZ?
---
DAVE HALL,MSGT, USAF, RET., e-mail, 21.10.2008 05:07

I WAS CREW-CHIEF ON A B-47E AT FORBES AFB 55TH B/W 343RD SRS TOPEKA KS. FROM 1954 TO 1958. MY BIRD DID SOMETHING THAT NO OTHER B-47 IN ALL OF S.A.C.NEVER ACCOMPLISHED. I HAD 113 ON TIME TAKE-OFFS WITH NO CANX FOR WEATHER, SUPPLY, OR MAINT.I RECEIVED A LETTER OF APPRECIATION FROM GEN. LEMAY PLUS A PROMOTION TO T/SGT.WITHOUT A DOUBT, THE BEST AIRCRAFT (BOMBER) THE A.F.EVER ACCEPTED!!!!
---
HAROLD FISH, e-mail, 20.09.2008 23:11

I was an ecm tech at smokey hill afb,1955-56.
I assisted bomb nav. tech in checking bomb nav system wich included making sure the bomb hooks released properly.
I did this because there was no ecm geatr to work on at that time.
but it waS a great aircraft
my best memory was watching from the flight line as the squadron took off for a tdy mission with full jato assist,wow
---
ssgt REX ROMAINE BAHR, e-mail, 02.09.2008 05:08

Crew chief RB47E 53777 & 778, 343rd Sq. 55th wing Forbes A.F.B. Topeka Kansas. My engineering Officer. Capt Palm The book is INVISIBLE FORCE
http://www.arlingtoncemetery.net/wgpalm.htm
http://www.55srwa.org/
HISTORY UNDERCOVER TOP SECRET SPY PLANES OF THE COLD WAR HISTORY CHANNEL #AAE-42591
---
Gerald B. Ascencio, e-mail, 03.08.2008 02:58

Hello, whoever: I was a crew chief on 53-2377. I know of no more beautiful aircraft. Flew to Goose Bay a couple of times, as no requirement for a CC to be a part of the flight crew was in existence, it was an honorary ride. Essentially I passed coffee! I remember passing over the Canadian border when the PIC asked me to slide into the canopy area. There were two (I hope I am correct...it's a lot of years!) Scorpions on the wing tips...The clear air...the contrails...It's a sight that, this side of my mind shutting down, I shall never forget. I have since received a military retirement as, at end, an E-7 Chinook, Cal. Nat. Guard, Flight Platoon Sgt. I have more than a thousand hours of flight time in this reliable bird!
I hope others have had some good memories of the Beautiful, B-47!

Gerald Ascencio (1953-1957 Mechanic and Crew-chief, (SSgt), on B-47s.
---
Alex Brewer, Jr., e-mail, 14.06.2008 08:20

I was a Radar/Nav assigned to first B-47 Wing, 306th at MacDill AFB, Fl from 1953-56. The work load for the Radar/Navs was extremely high with this airplane. My next assignment was in B-52s in the 99BW, Westover AFB, Mass. The B-47 was a great airplane that was instrumental in the development of all swept wing modern jet liners.
Lt/Col Alex Brewer, Jr USAF (Ret)
---
Bob Timms, e-mail, 02.06.2008 18:41

Served 4 years with the B-47 and KC -97's at Hunter Field in Savannah Ga. 1957-1961. Great Memories of a GREAT Machine.
Most time Spent TDY with 208th Field Maintenance Sq.
North Africa Azores among others.
We had one come back with 16 feet of its right wing gone.
AWESOME AIRCRAFT>
---
Paul Snyder, e-mail, 02.06.2008 14:28

I worked these birds at Homestead Fl.526 th Bomb Sqdn. With rotation T.D.Y. to North Africa for Alert duty.I have a lot of great memories associated with this jet.
---
Jerry Van Boxtel, e-mail, 29.05.2008 22:16

I was a crew chief on B-47E 53-1905 at Pease AFB N.H. from 1955 to 1959. The acft was the first one to arrive at the new base and was named "THE STATE OF NEW HAMPSHIRE" assigned to the 349th bomb squadron, 100th bomb wing.They sent her to the bone yard with only 1700 hours on her. A pretty sad day for me!
---
Don Feuerstein, e-mail, 28.05.2008 18:20

I grew up with the B-47. My father (same name) flew the B-47 for a good part of his career. I watched the ceremony to take the last B-47 from Pease AFB to the DM graveyard in AZ. We were with the 509th Bomb wing. The B-47 crews spent more time on reflex or in the "mole hole" than they did with their families. Family dinners were often at the officer's club with other crew members and their families as the men were often on alert! These men made tremendous sacrifices and we owe them for the many years they kept us safe! God Bless you all!
---
Al Jump, e-mail, 21.05.2008 02:09

I was also at Pease, 509th OMS, 509th BW. Later ended up working in the 817th AD Alert Facility. I remember Lt Col Reynolds, a B-17 pilot from the European Theater, who was the Commander of the facility. Fail Safe at the base theater, and then back to the Alert facility. What an eye opener, particularly after the daily briefings in the morning. Can still remember crew names and faces. Retired after 25 years in the service. Regards ........Al Sac, Ca.
---
Ron Henderson, e-mail, 03.05.2008 20:57

I flew the B-47 at Pease AFB NH from 1958 through 1965. I logged about 2400 Hours flytime on trans-oceanic routes worldwide. I can vividly remember picking up new aircraft at the Boeing Plant in Everett WA. The B-47 design paved the way for the next generation military and commercial aircraft at the Boeing Company. The USA truly had "The Big Stick" with the B-47 paving the way for a superior worldwide Nuclear Capability. Over 1000 aircraft were qualified for the mission. Perhaps the most meaningful role was the deployment I was privileged to fly from Pease AFB, Boston Logan Airport, to Europe to support the atempted Russian incursion of Missiles into Cuba. Because of the Nucear Capacity the US held firm and Russia withdrew their threat to invade Cuba--just 90 miles from the US Mainland! Our Strategic Air Command Motto was "Peace Is Our Profession" and it truly was as we persuaded enemies to withdraw without dropping a single bomb in anger for over 30 years.
---
Joseph J. Haas, e-mail, 29.04.2008 00:54

I flew the B47E from 1956-1963 at March AFB in the 19th BS, 22BW. From my first flight at McConnell AFB, Ka. till the last in 1963 I just loved that aircraft. It was the most advanced bomber at the time and top speed right up with the 1950's fighters. I also flew the LABS manouvers which really made me a beliver of this magnicifient aircraft as doing acrobacits at 425kts and 200' was a real rush in the 50's to say the least. Had 1,970 hours and many hours behind the KC97's and KC135's that kept me in the air for up to 18 hours on our Polar round trips. My eternal thanks for the Aviation Cadet program of that era that allowed me to become a USAF 2nd Lt./Pilot. Have lots of B47 memoribila in my house for rememberances. Joseph J. Haas, Lt. Col. USAF Ret.
---
John Wickman, e-mail, 10.04.2008 05:55

I flew the B-47E for 1250 hours as a copilot, from Davis Monthan and Mt. Home AFB's. I sat 28 days of Nuclear Alert during the Cuban Crius,plus an average of 11 days of alert per month, and took one of the last B-47E's of Alert on Dec 30, 1965. Aerodynamically it was a very efficient design, because at 45,000 feet if you flamed out you could glide at 240 KIAS, for about 250 NM. Other than the U-2 I know no other USAF aircraft that could beat than glide ratio. Electronically it was an antique, all vacum tube technolgy which was not that reliable. The whole fuselage contained fuel, a small bomb bay and pressurized crew compartment. The Fuselage would hold about 90,000 pounds of fuel plus 22,000 pounds of fuel in wing tanks. The J-47 engine had a tendecy to through red hot turbine blades into the fuselage, which was a disasterous event usually resulting in the lose of a B-47. Fully loaded for Nuclear alert , max weight was 221,000 pounds. The basic aircraft weighed a little under 85,000 pounds, add 5300 pounds of water alcohol and JATO rack (5,000 pounds?). The Co=pilot filled many functions, Flight Engineer, assistant Navigator, Radio Operator, Gunner, ECM operator, crew coordinator, assistant bomberdier,as well as co-pilot. An average mission was 8 hours and I was very busy performing all these duties. On numerous I probably didn,t fly the airplane more than a couple of minutes. I later flew the F-4, which was flying for the USAF in 1964, which had many systems that the B-47 could of used.
---
Joseph H. Peek, e-mail, 30.04.2007 07:28

While other kids were slinging hash-browns or hamburgers at the new McDonalds restaurants, I was a Sr. in high school playing trumpet in a big Glenn Miller type dance orchestra Friday night at the Non Commissioned Officer's club and Saturday nigh at the Officer's Club at Davis-Monthan Air Force Base in Tucson, AZ. As I drove into the base, I passed along the flight line and saw the B-47s lined up with JATO units attached behind the wings along the fuselage, guards and dogs patrolling the line and starter units at the ready for immediate deployment should the need arise. They were awsome and very intimidating. Their noise was deafening. I always wore a tux and carried my trumpet so the gate police were never a problem. I did that for three years before I left for the Naval Academy in 1955. Call me. 404-325-4866
---
If you want to send an email just replace '(@)' in the address with '@' !