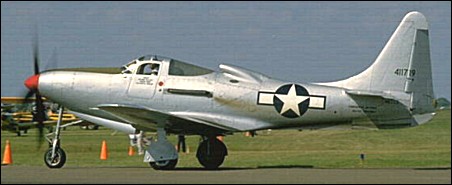 Ron, e-mail, 24.04.2013 09:06

Hey KLAATU83,
Aren't you comparing a P-51 with drop tanks to a P-63 without drop tanks? Note the maximum range of 2,200 miles for the P-63 in the text at top!
Besides the cost, I think the Mustang stood out at high altitude compared to the Cobra. But range? ... Perhaps it's true if external tanks were dropped to engage combat a P-63 would want to be closer to home than a P-51 on internal fuel or else fight with the center tank in place at some penalty in performance vs enemy fighters. I have to concede that.
---
Klaatu83, e-mail, 16.09.2012 17:30

The main reasons why the AAF used the P-51 instead of the P-63 was that, by the time the P-63 became available in quantity, the P-51 was already in service. In addition the P-51B and P-51D had one vitally important advantage over the P-63, greater range: 2,000 miles vs. 450 miles. That meant that the P-51D could escort bombers all the way to and from their targets in Germany, something which the P-63 could not do.
---
Aaron, e-mail, 11.04.2012 18:43

I take back some of what I said earlier. I have recently had the opertunity to read several articles and flight tests of P-39s and P-63s. The P-63 was MORE maneuverable than the P-39. It could outroll it (110 degrees/sec. at 275 mph). It was easy and steady in a roll at any speed. Performance figures for the P-63A-10 with water injection (1,800-1,825hp)were: S.L: 383mph/4980fpm. 1,000km: 394/4825. 2,000km: 407/4625. 3,000km: 415/4350. 4,000km: 421/3950. 5,000km: 423/3450. 6,000km: 422/2950. 7,000km: 412/2525. 8,000km: 407/1960. 9,000km: 394/1500. 10,000km: 376/1025. Weight of the plane tested was 8,592 lbs. In Axel Urbanke's book "First In Combat With the Dora 9" he states that the P-63 was able to escape from a Fw-190D-9 by climbing away.
---
Aaron, e-mail, 25.06.2011 21:26

I did a search on the serial number on the P-63 profile 269721. It was a P-63A-9-BE. Did anyone happen to notice that the wing .5 cal gondulas were removed? W.E. top speed of this aircraft was 426mph/23,000ft. at USAAF specifications. Imagine what the figures were in VVS service where it was probably 500 lbs. lighter and the engine was most likely boosted past USAAF standard. 440mph top speed and a max. climb of 4,700fpm maybe? This was just a quick stop. I'm on my way over to the Lavochkin sight to post some facts on the LaGG-3, LaG-5 and La-7.....Maybe some Yakovlev fighters also.
---
Aaron, e-mail, 22.10.2010 02:31

Herb,
I listed some information about the Buffalo plant at 2050 Elmwood Ave. under the P-39 at this sight. Sorry, I was in a hurry and brought up the wrong aircraft.
---
Herb Langford, e-mail, 14.10.2010 17:07

I am curious about the aircraft built at the Elmwood Avenue Plant in Buffalo, NY. I thought it was the "Bell Aracobra. I can remember as a child, and still have a couple, old drills that were thrown over a fence around the facility and we found when exploring in the cattails. It would have been in the 40's. Later, one day I awoke and over the tracks was a huge fire as the facility burned because the water was turned off to save money.
---
Aaron, e-mail, 25.09.2010 20:02

John,
Please elaborate on why the P-63 was your favorite. I am very enterested on what was involve in the acceptance checks and I am sure everyone is interested in why you think the Kingcobra was the best fighter we produced. I'll bring the vodka.
---
JOHN E. BOEING, e-mail, 08.09.2010 00:20

JACK BOEING, CAPTAIN, CLASS 43A, BLYTHEVILLE, ARK. WE WERE FLYING ACCEPTANCE CHECKS FOR THE RUSSIANS LEND-LEASE PROGRAM IN 1944 AND 45 IN FAIRBANKS, AK - THEY WERE GETTING P=39, P-63, A=20, B-25, C-47 AND AT=6'S, I ALSO HASD A CHANCE TO FLY A P38, BUT THE KINGCOBRA WAS MY FAVORITE, AND I THINK THE BEST FIGHTER WE PRODUCED..THE RUSSIANS SENT THEIR ACES TO FAIRBANKS FOR R & R AND THEY FLEW THE PLANES BACK TO RUSSIA. ONCE A WEEK, THEY HAD A PARTY TO WHICH WE WERE INVITED. MAN COULD THEY PUT AWAY THE VODKA
---
Aaron, e-mail, 03.09.2010 22:38

I have a real hard time believing the published figures of the P-63A having a 408-410mph. maximum speed and the P-63C with water injection as have a maximum speed of 410mph. also, especially at close to the same weights. I am only guessing here but I would say the 410 figure is probably at military power, not combat or war emergency power. Now that opens a can of worms.
---
Aaron, e-mail, 19.08.2010 04:20

Ron,
I have been studying and researching WW2 fighter A/C on and off since 1968. I love the subject and compiled tons of material. I would love to share the little I have put together with you or anyone who is interested. There is so much I haven't learned yet and would like to know. I have very limited time to use a computer, job, wife and life, but would be glad to pass on what I can.
---
Aaron, e-mail, 18.08.2010 16:09

Ron, I e-mailed you that information on Sat. 8/7/10. The P-63 and P-39N are on the same speed/climb charts. I tried listing the sight here but this sight would not allow it to go through.
---
Ron, e-mail, 17.08.2010 00:34

Aaron,
I'd be interested in this chart.
---
Aaron, e-mail, 12.08.2010 06:46

Oh, I almost forgot. The F6F wasn't that slow. Go to Hellcat (pun intended) to see my comments.
---
Aaron, e-mail, 12.08.2010 06:40

I never gave favorite powerplant a thought. But if I did the R-2800 would be in the top three....two....one, probably. That's a different story though. The P-63 was fast if you think in terms of combat speed instead of maximum speed. Although its maximum wasn't so bad. A military fighter comparison chart comparing it to other contemporary aircraft showed the P-63 to be capable of 373 mph. at S.L. and 426 mph. at 23,000 ft. Initial climb rate was listed at 4,400 fpm. Combat ceiling (1,000 fpm) was 31,800 ft. The P-63 only out climbed the P-39(N) initially.
The P-63 was a kick-butt fighter but the USAAF didn't need it. The P-51 was cheaper (a dollar and cents thing). The maximum published range of the P-63A was 2,575 mls. (that's eat my dust in USA terms). Ron is right. Less than a handful of WW2 fighters could roll with it. 113 degrees/sec, at 250 mph. and 110 degrees/sec. at 275 mph. And if the graph curve is fluent it would eclipse the fabled FW-190A around 325 mph. All these figures are with USAAF specifications intact. Remove the wing guns and let you immagination wander...WoW!
---
Ron, e-mail, 21.04.2010 08:50

No sooner do I finish the last post, behold: I find Bell's P-52 design. Never produced of course, but a design just like I was thinking of and better looking than the P-54, 55, and 56. Wish it followed through to compete, at least a flying prototype would have been nice.
Anyway, even with the existing P-63, the prospect of replacing the Allison with a P&W R-2800 would have been an improvement in power and reliability (though heavier). Chances are it could have given the P-51 a bit more competition despite there not being enough Packard Merlin engines to share with Bell. I like to think it would be fast like the P-47 or F4U rather than slower like the F6F that all had the R-2800 radial, my favorite powerplant for WW 2 fighters.
---
Ron, e-mail, 20.04.2010 23:32

The P-56 Black Bullet was a pusher with an R-2800 radial, but was short and unstable. It had no canard elevator like the J7W of Japan (or Allison powered Curtis P-55) had.
The longer Vultee P-54 pusher with the tailplane P-38 style, was probably most stable.
Thought I had to mention the American pushers especially the radial powered one after my last post.
---
Ron, e-mail, 20.04.2010 20:19

If the underpowered and unreliable Allison was the only inline engine available to the Kingcobra, what if a radial was tried?
It worked in the Kyushu J7W Shinden with a Mitsubishi radial engine behind the pilot.
The Pratt and Whitney 2800 was reliable and powerful in time for the P-63.
Of course it need not be a pusher like the Shinden but actually that might have worked even better: No synchronized limit for guns to 300 rpm through the prop;
No more gearset and extension shaft to a distant motor.
Imagine a clean nose for efficient Russian guns and you have a kick-butt Bell fighter by mid-war!
Unconventional, maybe. But Bell was never otherwise.
---
Ron, e-mail, 19.04.2010 20:15

I misspoke about the Chrysler powered P-47H.
It was a couple of D-15s not P-47Cs.
Most often the published speed is 490 mph.
Now I just read that was the hoped for speed.
The actual speed was a disappointing 414 mph!
It seems the super charger designed for it turned into a dead end so a 2nd choice was a turbo-supercharged installation that got those results and the expensive project was understandably dropped. Too bad.
---
Ron, e-mail, 16.04.2010 23:59

Can you imagine 2,500 hp at 25,000'!!
No wonder the P-47H did 490 mph with the Chrysler V-16.
The P-63 could have made room for it better than most.
Luftwaffe bombers might fly above other Soviet interceptors, but not this one.
---
Ron, e-mail, 16.04.2010 23:29

Want a true fighter-bomber/bomber destroyer, and leave the dogfights to the lightweights?
Forget about saving weight. Take a P-63 powered by an inverted Chrysler XIV-2220 V-16, swap out the Olds 37mm cannon for the NS-37 for triple the firepower. swap out the 4 Browning .50s for UB 12.7mm for a denser pattern, or 5 B-20s instead (maybe even put one in the tail as a stinger defense too). 3 bomb load or drop tanks. It would be like an Il-10 with more speed and endurance.
---
Rusty Hatten, 01.04.2010 19:52

This aircraft is amazing and beautiful, I wish I had one (;
---
Ron, e-mail, 29.03.2010 19:55

That's the spirit. Art you got that right, but remember the extra 1,000 hp too!
The P-47H was a razorback D from 1943. The Chrysler v-16 engine was slow in coming together. Too bad.
Meantime Allison put out 70,000 units in WW2.
---
Art Deco, 28.03.2010 02:17

Recall that the chrysler engine was a yard longer and a thousand pounds heavier and then add the turbocharger plus inter and after-coolers and didn't fly until after VE Day. Apart from that, just as you say.
---
Ron, e-mail, 28.03.2010 01:06

Recall the experimental Thunderbolt with the long pointy nose?
That was the 490 mph P-47H with the Chrysler XIV-2220 liquid cooled inverted-v engine. Imagine that long power plant in the P-63 where it could fit without looking so goofy. That was 1943. The 16 'hemi' cylinder motor could have put the Allison on the trailer, and perhaps reached production in the P-63. Maybe that would have given the Mustang a run for it's money. At the least, it would have given the Soviets an even better impression of American mettle. Just a thought.
---
Ron, e-mail, 18.03.2010 00:45

To reduce the weight, what could be done?
With that engine behind the pilot, he doesn't need much armor.
drop the wing .50 cal. mgs and swap out the nose guns for more efficient Russian weapons.
Those are no-brainers.
---
Ron, e-mail, 19.02.2010 08:20

The visiting Russian test pilot and engineer had the new P-63 nose guns moved forward at the Bell factory to help the c/g. They were also helpful in strengthening the fuselage to eliminate distortion from spin forces.
But their ideas for mounting ski landing gear didn't make it into production.
When I read of Pokryshkin's squadron of P-39s converting to P-63s by late 1944, I tend to believe it from what I heard about him. If you had his talents, would you stay with old P-39s while all these improved P-63s were being delivered?
I don't think the Germans that shot them down were misidentifying them just to endorse the rumors of Soviet pilots. When the Germans mention the loop antenna behind the cockpit, I think it was a P-63 they identified. They didn't sign the 1943 lend-lease agreement prohibiting P-63s from fighting in Europe (officially).
I can't believe more Russian Kobra ace leaders didn't do the same as Pokryshkin. Besides, I think it was more comfy than the Russian types. You could see through the clear glass, the radio and heater worked, and it packed plenty of ammo. It was not so limited by altitude like the P-39 and most Russian fighters.
---
Ron, e-mail, 09.02.2010 09:00

I like the fact that the P-63 was testing a teardrop canopy and a swept wing (I didn't care for the V tail though).
I also appreciate the injected engine and ventral fin that made it into production. I would like to have seen all of these improvements and more developed and fielded in a more timely manor.
Why did I say 'and more'?
I like the idea of the P-63B succeeding with the Merlin engine. If Packard couldn't spare any, Allison or someone else like Klimov or Mikulin could do the same as Packard and install them when they get uncrated off the ship in Russia. Why couldn't the stupid turbo be refined by Allison and added the the injected engine before all that. Inver the darn engine like a Daimler-Benz if you want better view over the sloped cowl and also put the guns under the nose to avoid the flash blinding the pilot especially at night.
More also means put the fuel and ammo close to the center of gravity and the pilot and engine on either end of that.
As ammo and fuel are lost the balance would remain: stall and spin trouble solved!
Am I carried away yet?
Put all B-20 cannons in the nose. More than 3 if you want - they're so light. They synchronize well too. Voila, harmonized ballistics!
Put an NS-37 cannon in the tail to discourage rear attackers. This also could deliver the unexpected parting shot when pulling out of a strafing run. The recoil would speed your climb, not stall the plane.
That would be a Bell Kobra fighter worthy of 1944-5.
---
Ron, e-mail, 31.01.2010 08:00

At altitudes above 7,500 meters, the Kingcobra overtook the English Spitfire Mk. IX and Soviet Lavochkin La-7 in Russian tests.
---
Ron, e-mail, 24.01.2010 08:25

Other 'unofficial' P-63 action ranged from Poland to Berlin. The 4 GvIAP for example, converted from 1944 to new P-63s. But officially these were 'P-39s' on paper.
By official agreement all P-63s were strictly to fight Japan in the East. One downed a Nakajima fighter (likely an Oscar) in August 1945 when Russians attacked to seize territory held by Japan. That would have been it for the P-63 but for the unofficial action in the stuggle to defeat Hitler with these 'P-39s' so called. Certainly it spices things up a bit, with high powered Soviet regunning for double the rate of fire and all. It was good enough to serve as late as the Korean War too.
---
John L. Fritz, e-mail, 06.10.2009 05:23

I worked at Bell from Nov 1945 to April 1959. I was an Project Engineer/Test Pilot anf flew one of two P-63s that had an extra cockpit behind the engine. I would love to see a picture of this plane. I engineered the modification of an F80 as a simulated Rascal Missile with cruciform fins at mid-wing spans. I remember the number being 484. It was the forerunner of six such aircraft used by an airforce training cadre. At 89 years of age I now live in Sebring, Florida-Jack Fritz
---
Ronald, e-mail, 18.09.2009 07:07

Roll rate was 110 degrees/second @ 275 mph vs the P-39D which did 75 d/s @ 235 mph. The fighters that could do better could be counted on your fingers. Even the F4U-1D was edged out at 108 d/s @ 300 mph. What was the rate for the Bf 109G - 80 @ 200 mph (sans wing cannon gondolas)?
I'd like to read more about the Merlin plans for the P-63 too.
Anyway, it's good to know that the P-63 was utilized by the USSR not just against the Japanese in the end, but unofficially against the German wermacht beforehand (officially still P-39s). Many King Cobras had the new light weight B-20 cannon replace the slow U.S. 37 mm, and fast firing UBS 12.7 mm cowl guns. Just those 3 Russian guns put out 2.72 kg vs 2.77 kg for all 5 U.S. guns. The ballistics were a better match and the pattern of fire was more dense (40+ r/s vs 37 r/s), not to mention the weight savings without wing gun gandolas and the B-20 (lightest cannon in the world) replacing the much heavier Olds 37mm (one of the slowest). Even with original 5 guns the P-63 outclimbed the P-39 (the new motor gave the P-63 another 10,000' of combat altitude). With the King Cobra re-armed, the Luftwaffe faced a far more agile if not more leathal P-63 than expected. Oh I'm sorry, "P-39". The battle of Koenigsburg was one such highly suspected clandestine confrontation. It turned out badly for the Luftwaffe.
Also, get a load of that maximum range! On the Eastern front no less. If Bell addressed the weaknesses of the P-39, the USSR soon replaced the slowest cowl guns (5 r/s each) with some of the fastest (about 14 r/s each) and retired the (2 r/s) 37 mm M4 with poor ballistics, for a high velocity, rapid fire 20 mm cannon (13 r/s). A worthy dogfighter out of a heavier close-support fighter-bomber.
-Ron
---
If you want to send an email just replace '(@)' in the address with '@' !