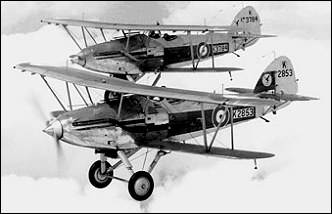 R.J.Church, e-mail, 23.10.2012 14:07

This aeroplane takes me back to my childhood.It is surely one of the most beautiful biplanes ever made.I love it! The roundels on taut silver fabric and the crackle of the RR Kestrel engine never fails to stir me.
......Ex Flight Mechanic,(engines), RAF.
---
Dave Griffiths, e-mail, 27.04.2012 22:52

I have a full size prop I am trying to find out its past it has a brass plate attached that reads
WATTS B 4 11
KESTREL 11S RH
D.10.75 P.12.13
CI795 MAY
41512 1936
---
Jim Harrison, e-mail, 01.10.2011 04:15

Magnificent aircraft for its time speed 180 miles per hour and equiped with the fabulous Rolls royce merlin.
---
Timo Ruoko, e-mail, 28.01.2007 21:15

Span 11,35 m lenght 9,02 m height 3,18 m wing area 32,33 m2 emphty weight 1391 kg take off weight 2030 kg Speed 293 km/h/3690 m, ceiling 8380 m range 600 km
---
If you want to send an email just replace '(@)' in the address with '@' !