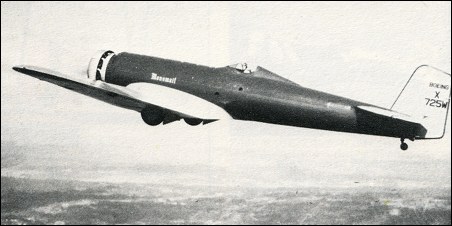 Klaatu83, e-mail, 27.04.2012 16:56

This mailplane was the progenitor of all the famous Boeing transport and bomber aircraft. The single-engine layout was abandoned in the early 1930s in favor of two engines after the government banned the use of single-engine transport aircraft for commercial use, and the Air Corps insisted upon multi-engine bombing aircraft. The result was the successful 247 airliner and B-9 bomber, both of which were larger twin-engine aircraft based upon the basic design of the Monomail.
---
STEPHEN GREEN, e-mail, 13.01.2011 21:43

A negative of this plane and others from the 1930's will be placed on ebay in the next week or so. the negative of the plane is after it was converted to a 221. they will be listed under kmweber on ebay, plane-nc725w
---
Duke Sumonia, e-mail, 21.07.2007 03:28

I'm a researcher with the Archeological group of the Colorado Aviation Historical Society.
Am researching the 2 Boeing Monomails NC 10225 and NC 725W. The latter crashed May 27, 1935 in Wyoming and we have accident report and have visited the crash site. NC 10225 is reported to have crashed near Pueblo Colorado in fall/winter of 1935. We are searching for the site and any information about accident. Would like to especially learn date. Any help appreciated


Duke Sumonia
Glen Haven, CO.
---
If you want to send an email just replace '(@)' in the address with '@' !