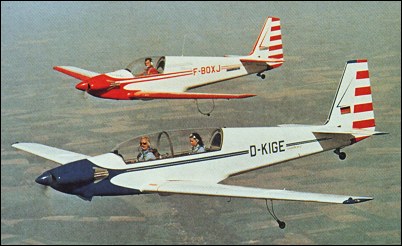 Naga, 14.07.2012 01:40

I am proud to say my dad owns an RF-4 and RF-5 in the States, and has a father of his own that owns an RF-4.
---
Orlando Pilatti, e-mail, 09.05.2011 04:27

Muy estimados: Tengo admiración por los aviones Fournier, especialmente el RF5, y deseo reunir la mayor información sobre este modelo. En realidad estoy tratando de lograr planos o esquemas de construcción, pero si no los consigo, igualmente construiré un avión similar, con mis propios diseños. Gracias por el espíritu. Un abrazo. O. Pilatti
---
Remi Vincent, e-mail, 27.10.2010 21:44

Est ce qu'il existe un RF4 moderne c.a.d. construit avec les nouveaux materiaux et donc plus leger?
Et avec moteur 80cv Jabiru?
Et avec ailes repliables comme le RF5 ?.
MERCI Rémi
---
Tom Ingle, e-mail, 19.06.2009 00:41

Is there anywhere in Canada where I might purchase a Fournier RF3 or RF4 or RF4D these days? I've read articles about how wonderful they are to fly.
Tom Ingle (private pilot-Toronto, Canada)
---
If you want to send an email just replace '(@)' in the address with '@' !