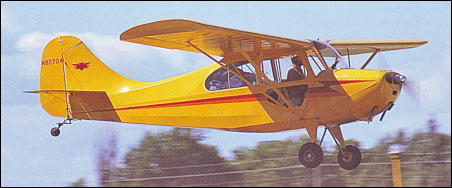 Bob Avrit, e-mail, 24.02.2013 09:17

After 20,026 hours of Air Force and American Airlines flying, I retired and bought a Champ - my first tail dragger! My first impressions: after my first try at landing,I wasn't sure I could master it; unlike the F-86, it usually did not want to go where you pointed it; the tail usually wanted to get in front; the heel brakes were a humiliating experience; do not land down wind; it felt as stable as a balloon compared to a DC-10. But, after a few hours and a nearly complete restoration (original yellow and orange paint scheme,) I was very comfortable and enjoyed it immensely. We were based at Sonoma Skypark 069. My wife and I often went to lunch some place in Northern California on Fridays.
---
Tom Tucker, e-mail, 24.02.2013 05:08

In 1949 I frist soloed in a Champ at Lindburg Field in San Diego. I flew 55 hours until I ran out of money. One day as I was practicing spins my engine quit and I had a forced landing on a marine artillery range. A marine was able to prop me and I took off again. This was one rugged airplane and a lot of fun.
---
Capt. william sauers, e-mail, 12.08.2012 16:28

I purchased a 1938 Aeronca KCA side by side seating.It was the predecessor of the champ, and is missing from this record. I have picture of her and would be glad to send them so you can update the history. I purchased her in Wichata Kansas 1965-1967 ,sold her as I had left the F-105 Sqd. and went to fly for TWA. I tried to get my wife to fly her, but she liked tricycle gear acft.
---
Ed Desrochers, e-mail, 06.08.2012 22:34

The RIANG 152nd FIS flying P51D's had flying club with a Chief. The toughest thing I had fying it was the mechanical heel brakes. A lot different than our other aircraft.
---
Joe Lovelace, e-mail, 16.07.2012 12:19

I went into the Air Force in 1954 at the age of 17 and after basic training was stationed at Headquarters ATC in San Antonio where we had a flying club. The club had three champs and one chief, one piper tri-pacer and one Cessna 170. I did my training in the champ and loved it. I am 75 years old now but still love to remember the days in the champ. That plane would do the loops and spins, though you would have to be careful.
---
Don Latimer, e-mail, 21.06.2012 02:03

After I was honorably dischared from the 36th Infantry Division following WW11 I took flying lessons and became a private pilot. I trainied in an Aeronca in Ardmore, OK. The Champoion looks like my trainer but I took the lessons in 1947-48 which may have been before the Champion. I do remember it was hard to stall and spin, had a compass which was some 15 degrees off and a crack between the front door and the frame. And the sirspeed was about 85 miles per hour going downhill. But I survived a great experience.
---
jim vail, e-mail, 05.06.2012 18:27

its not aeronca or aronica its airknocker . soloed 2.8 hours 1956 troudale airport troutdale oregon.
---
Martin O'Donnell, e-mail, 31.05.2012 02:11

The first "tail-dragger" I soloed was a Champ. One heck of a lot of fun to be had in one of those planes. However, the "Chief" flys circles around a "Champ" for a lot less effort by the pilot. Same wing, control surfaces, same gear, same motor. Totally different plane. "Love um" both though.
---
Robert Ricketts, e-mail, 14.05.2012 00:39

I soloed a TriChamp at the North Little Rock airport in 1962. The SAC base had a flying club where I learned to fly with military instructors. Forty years later I retired from the airlines after flying the B727,737,757/767, L-188, L-1011, DC9, D8, but always loved the Champ.
---
Jack Matthews, e-mail, 05.05.2012 03:10

As requested previously, do you have any data on the Aeronca Chief? I had a 1939 Chief that I learned to fly with in Biloxi, Mississippi in the early 1950's. It was a fine plane, easy to fly, and great to land almost anywhere. I really liked the side by side seating with a nice storage space in the back. I wish I had it back, but I sold it to a Shrimp Boat Captain who used it to spot fish schools off Pascagoula, MS.
---
Fred Dickinson, e-mail, 06.04.2012 16:43

I flew the same 7AC Champ, with the same instructor as Jim Kemple stated above. Those were good times, and the Champ was a great A/C!! Went on to get a Commercial, CFI, etc., but the Champ is still one of my favorites. Jim and I were both Air Traffic Controlers at Chase Fld, and remain good friends after nearly 50 years.
---
Jim Popa, e-mail, 17.03.2012 04:23

Learned to fly at Univ. of Illinois Institute of Aviation starting in 1958 in 7AC champ N84008. U of I had a slew of champs on the ramp as basic trainers. Flew other types there going on to Commercial and CFI rating, but always have a spot in my heart for the champ. One endearing memory I have is looking over the ramp on a windy non-flying day and see the Aeroncas "flying" in their chains. If the wind was from the right direction one main wheel would lift off, and sometimes both mains had daylight under them! Champ wanted to FLY!.

Next 7AC experience was instructiong at the Rota, Spain Navy flying club. My ship (sub tender) was tied up there, so I spent many happy hours at the airfield.
---
Dan, e-mail, 14.03.2012 12:51

I just became a co-owner of a beautiful 46 7ac. I started flying when I was 15 back in 1966. The airport had used champs and cubs for years; however, shortly before I started my instruction they replaced them with a brand new Cessna 150. So I learned to fly in a 150. It was a wonderful plane and I got my private ticket at 17 and spent time in a 177 and 172. With about 180 hours I stopped flying in my early 20's. So now our kids are grown and on their own. I have an excellent retirement and have started lessons again. This time I am in the plane that eluded me more than 45 years ago. And, she'is waiting for me in her own hanger at a small, private grass airport. Nice.
---
Chuck Cass, e-mail, 18.12.2011 22:14

Ed Mays,my uncle and still living WW2 veteran bought a Champ in the early 60's after catching the "flying bug". At 12 years old,I immediately became his flying buddy.After school and every weekend we were flying somewhere or nowhere in paticular but flying nontheless.We would land on a small island on Lake Berryessa in northern Calif. and go fishing.I would throw a roll of toilet paper out the window and as it unwound, Uncle Ed would fly through it as many times as altitude (or lack of) would allow.One time on a trip to Healsberg the 65hp engine stopped and we had to glide into the airport.
It was Uncle Ed and the Champ that instilled my love of adventure I still have today flying Powered Paragliders at the age of 60.
The best times of my childhood were spent in the back seat of an Aeronca Champ. Thanks Uncle Ed... I love you.
---
Ralph Alshouse, e-mail, 30.11.2011 04:24

Way back in 1942 ten Navy cadets and ten Army Cadets were sent to Eagle Grove JR. College for ground school. Each morning we rode an old bus to Clarion, IA airport. The airport had two beautiful Aeronca tail dragger airplanes. Most of us 18 year olds had never been near a airplane, let alone in one. Individually we all soloed. For some unknown reason, I happened to solo first with 2.4 hours of instruction. What a great day!
---
Lou Kugell, e-mail, 25.10.2011 08:13

Soloed 7AC in 1958 at Bethany Airport in Ct. I will never forget that day thinking I was in a P-51 all 65 horsepower of it. I have loved aviation since I can remember and have a prop on my wall from the 7AC that lost a gear and I was with my instructor. that prop is my prized possession----it was given to me by the airport a&e.
---
Howard Wilson, e-mail, 04.10.2011 02:06

Do you have any info on the Aeronca Chief?
---
Howard Wilson, e-mail, 04.10.2011 02:04

Do you have any info on the Aeronca Chief?
---
Scott Boyd, e-mail, 31.08.2011 03:41

The first logged flight I have is in 9068B a 7EC and the second in 84395 a 7BCM, next was a straight back 150.
---
Bruce Davis, e-mail, 30.08.2011 23:18

I learned to fly, like so many others, on 3 of these aircraft. One was CF-NMY, a 1946 7AC modified with an 85 hp engine with electric start. The second was CF-JUQ, also a 1946 7AC but modified with a 90 hp engine with electric start. The third was CF-JWZ, a later model "Champ" with factory 90 hp engine and electric start. A few years after getting my licence, in 1973, and a float endorsement, I had the opportunity to check out a friend of mine with a 7AC modified with a 90 hp engine (no electrics) on floats. These aircraft made very good float planes (but not with 65 hp).
---
Ed Wentz, e-mail, 25.08.2011 22:02

I learned to fly in a Champ while in high school in about 1958 at Rhinelander, Wisconsin from Steve Shellbreck, a real bush pilot. The plane had to be propped and quit on us once while practicing forced landings. We put it down in a farm field full of cows. It re-started, seemed to be OK and took off with no problems. Steve was the kind of guy who said take off into the wind even if it meant going cross runway through the weeds, get it over the trees, and go. I had a lot of fun just flying the thing and had to quit when I ran out of money at 26 hours. I re-started flying again in college in a Cessna 150 from Noble Lee at Lakeland Airport in Minocqua, Wisconsin and the airport is now named after Noble. He taught me to fly all over again the correct way and his training saved my life on a flight. I'll never forget him and his wonderful way of teaching me to fly.
---
Ken Posey, e-mail, 28.06.2011 00:57

The college I attended had an aviation program that allowed WWII veterans to get a private license. I got mine in 1948. They had two Champions and a Chief. I loved them all. I'd like to see more information about the Chief. kp
---
bob, e-mail, 15.06.2011 17:57

soloed in 7ac 1957, Ft. Fairfield Maine, dirt field, instructor, John Philbrick, $10.00 an hour rental plus gas,
still have pilots certificate, in 1961 I wanted to buy a Chief, in St. Joseph Mo. cost wass $800.00 but before I could, someone else was testing it and the engine fell out on final apporach.
---
Paul Schrimscher, e-mail, 22.05.2011 21:52

The foregoing comments brings back fond memories of my first solo in Aeronca 7AC N2731E on 6/26/53 as a young lad of 17 at what is now Tampa International airport. It used to be called Drew Field during the war and there was miles of open areas which is now covered by homes and businesses..The aircraft only had a radio receiver for contact with the tower which meant you "rocked" your wings if you understood the message.In the event the battery powered radio failed, you relied on light gun signals from the tower. Of course, my radio failed on my first solo which made it a memorable landing experience. Great aircraft.
---
Harry Saunders, e-mail, 22.05.2011 03:31

I had a 1946 Champ and loved to fly it. I ground looped it once with no Damage. The right wing just brushed the top of the grass. It did not hit the ground. Used to prop it by myself with the tail wheel tied down. once it was ideling I would untie the tail wheel and Jump in to the cabin and taxie for take off.
---
Gene Hall, e-mail, 16.05.2011 06:20

My life long adventure, in the world of aviation, began by learning to fly the "real way", in a taildragger. I began my 50yr career in 1955 at Hillcrest Airpark (long since converted to streets, sidewalks, houses and schools)in Logan, Utah owned by Dean Reese (also long departed). I was a student at Utah State University. The aviation dept. owned two 7AC Champs which we flew for $2.25/hr. wet. I soloed 7AC N1618E on July 28, 1955. I couldn't beleive how much better that 65hp Champ performed without Dean in the back seat. God rest his soul. I received my Private in 7AC N84908 Sept 24, 1955. The hours I spent in the 7AC give me a good background for bigger and more powerfull taildraggers. I later flew AT6s and F6F Hellcats as a civilian of course. I owned two Cessna 195s, two Cessna 180s, and two Supercubs and have flown the backcountry in Idaho in the Cubs and 180s, all taildraggers! As someone said before me 'it all started with the Aeronca Champ'. Many years later I was entering the pattern at Allentown, PA ,early one Sunday morning, in a United Airlines 737. A Champ had just turned from base leg to final. The tower called him and insructed him to go around and let United land first. I keyed the Mike and said,"negative myself and my copilot both got our Private tickets in a Champ I will extend my downwind, out of respect for a mighty fine airplane and let the Champ land first." The tower replied," roger the Champ will disregard and continue the approach". On July 28, 2005 I borrowed the 1957 Supercub I had sold to a friend and flew back to Logan Cache Airport and lande on the same runway I had soloed on 50 years to the hour ealier. So my flying career lasted 50 years to the hour. Boy what a ride and it all began with the Air Knocker.
---
Vern Baisden, e-mail, 03.05.2011 22:27

Please don't say ,"Aeronica" It's Aeronca. Study the sylables. Then again some people say "nucular" instead of nuclear.
---
Vern Baisden, e-mail, 02.05.2011 20:52

It's not listed here. There was an Aeronca 15 AC, 4 place aircraft. It had a Continental O-300, 145 hp, 6 cylinder
engine. It was a high wing, fabric covered fuselage and empenage. With all metal wings. I liked the very large windows and low speed performance. It was an excellant sightseeing airplane . We took up passengers over the Thousand Islands from a small dirt strip near the thousand islands bridge in upstate NY. It was a pleasure to fly. This was in the late 1950s. I understand 561 were built.
---
Ken Stephens, e-mail, 30.03.2011 06:06

Solo Flight 1972 South Norfolk Airport VA in Aeronica 7-AC N2192E Rebuilt by Father Ken Stephens Ret Piedmont Airlines.
---
David Nichols, e-mail, 07.03.2011 21:14

I SOLOED An Aeronca CHAMP 7AC, N82589, ON SATURDAY MORNING,
9 JUN 1962 AT SUFFOLK AIRPORT, (SFQ). I WAS FOURTEEN (14) YEARS OLD, BORN 4 NOV 1947.GEORGE A. CALES, MGR. OF THE AIRPORT OWNED THE AIRPLANE BACK THEN.IT WAS "PINK & WHITE" THEN. WORKED AT THE AIRPORT FOR GEORGE, FOR MY FLYING TIME,PLUS TWO (2) DOLLARS PER WEEK, TILL GOING INTO THE ARMY AND ON TO VIETNAM IN 1968(4 Trips '68 THRU '72).IF IT WERE NOT FOR GEO.A.CALES,GIVING A SKINNY,UNDER ACHIEVING KID A CHANCE, WHERE WOULD I BE TODAY? I ASKED MYSELF THIS OFTEN! THEN I REALIZE JUST HOW TRULY "BLESSED" I HAVE BEEN. FOR SOME REASON, YET UNKNOWN TO ME, HAVING BEEN ALLOWED TO "SURVIVE" FOUR TOURS IN VIETNAM, WHILE BETTER MEN DID NOT, FLYING HELICOPTERS FOR THE VIRGINIA STATE POLICE AND RETIRING WITH 30 YEARS SERVICE, AND NOW FLYING 600 HRS. A YEAR FOR A CORPORATION OPERATING A CITATION BRAVO AND CHALLENGER 601-3A. YES,GEORGE, YOU DID GOOD BY THAT CURLY HEADED KID BACK IN SUFFOLK! DEAR LORD, I PRAY YOU'LL LOOK AFTER HIM IN HEAVEN. HE'S KINDA "Rough" AROUND THE "EDGES," BUT HE'S GOT A HEART OF "ABSOLUTE" GOLD!

RUSSELL DAVID NICHOLS, RICHMOND,VA (FCI)
---
JOHN FISHER, e-mail, 07.03.2011 06:06

ONE EASTER WEEKEND IN THE 60ES I CAME BACK HOME TO MUENSTER FROM HOUSTON AND MY OLDER BROTHER CLYDE SPENT THE WEEKEND TEACHING ME TO FLY. ON MONDAY MORNING BEFORE GOING BACK, AT THE GAIENSVILLE AIRPORT HE GOT OUT OF THE CHAMP N85625 WHERE WE WERE DOING TAKE OFF'S & LANDINGS CLYDE GOT OUT AND SAID TAKE IT AROUND. HE IS GONE BUT I HAVE THOESE GREAT MEMORIES.
---
JOHN FISHER, e-mail, 07.03.2011 06:04

ONE EASTER WEEKEND IN THE 60ES I CAME BACK HOME TO MUENSTER FROM HOUSTON AND MY OLDER BROTHER CLYDE SPENT THE WEEKEND TEACHING ME TO FLY. ON MONDAY MORNING BEFORE GOING BACK, AT THE GAIENSVILLE AIRPORT HE GOT OUT OF THE CHAMP N85625 WHERE WE WERE DOING TAKE OFF'S & LANDINGS CLYDE GOT OUT AND SAID TAKE IT AROUND. HE IS GONE BUT I HAVE THOESE GREAT MEMORIES.
---
Everett A Smith, e-mail, 06.03.2011 20:23

I took training in thr Champ at Okla A@M college, obtained my Private ticket from a Mr Vacin at Enid Ok Woodring airpoin 1951. This training ended with serving 20 years in the Army flyingfixed wing and rotary wing AC.
---
Dave Hughes, e-mail, 06.03.2011 15:47

I soloed in 1956/57 in Swanton VT. on wheeles and skies.
At the time it cost $4 per hour for the indtructor plus
a 5 gal. can of Amico non lead gas.
Had a great time, never flown since..
---
Xboeingcapt, e-mail, 06.03.2011 01:03

I never flew a champ, always admired them..I started in J3 cubs. When I retired from airline flying, I got into aeromodeling. I have quite a collection of giant flying replicas. I put together a one half scale Aeronca Champ. Wingspan is 17'7 weighs about 120lbs, 11'5 length. If you're interested, you can watch me fly it on youtube, under "half scale champ" or "Champ Naples january 2011" It sure flies sweet, thinking of buying a full scale one!
---
Tom Brown, e-mail, 06.02.2011 18:47

I soloed a 7AC Champ in 6hrs 45 min dual at $10/hr in 1962. I was a 20-year old student with a part-time job earning $1.00/hr. My instructor in North Little Rock, Arkansas was Mr. McFadden. I was more surprised than anyone when he got out of the airplane without saying a word and walked back to the hangar. A man of few words, I think he intended for me to solo ... so I did. Before that, my biggest thrill was when he told me to go to another place on the airport and taxi the airplane back to his hangar. I had to keep my flying habit a secret because my mother would not have approved. I eventually flew Navy jets off the carrier in Vietnam and ended up retiring from UAL flying the left seat of a B-747-400. In my 50 years of flying, I can count the thrills on one hand that match the thrill of that first taxi or solo. RIP Mr. McFadden.
---
Blogengeezer, e-mail, 28.01.2011 05:34

Friend read about flying planes while in HS. Had no money for flight or lessons so hitched ride to closest airfield where he had admired one near the fence. First aircraft he had ever sat in and impulsively started it. Taxied and revved to get the feel and it lifted off. He followed the highway to a farm near his home. Came in low over the trees and set it down. Showed us his treasure. We taxied and roared back and forth but no way to take off in that short pasture surrounded by trees, so finally admitted his deed to authorities. He eventually became a responsible pilot after that one indescretion.
---
phil randall, e-mail, 07.01.2011 18:15

Canadian Air Cadet Sqdn.#18 trained on 3 - 7AC "Float Equipped" aircraft in the 1960's in Nova Scotia. Aircraft were "Ski Equipped" for winter flying on the snow covered lakes. Excellent training aircraft & very reliable in our environment.
---
Phyllis Barber, e-mail, 22.12.2010 20:35

N2082E My first lesson. 9-28-59 After saying (since a young chiled)"Some day I am going to learn to fly" at age 34 I started. With Iowa winter and a grass strip I did not solo until April. I went on to get a Private, Commercial, Multi-Engine and Instrument Ratings. Now at 85, I have many wonderful memories. Tri-Pacer, J-3 Cub, Cherokees, Comanche, Apache, Aztec, Musketeer, Bonanza, Cessnas and Mooney - ALL great airplanes. It all started in the Champ.
---
Don, e-mail, 18.12.2010 22:24

Nothing on the site(that I could find) regarding the Aeronca Chief, Defender & Sedan
---
Brad Bennett, e-mail, 15.12.2010 21:25

Our Ga Tech flying club had a 7AC during my school years of '51 to '55. I flew it several times from Charlie Brown Airport in Atlanta to Daniel Field ( my home town airport in Augusta.) Having learned in a J-3 Cub where you must solo from the back seat, it was nice to drive the 7-AC from the front.
---
Brad Woodhull, e-mail, 15.12.2010 05:12

In 1946 my friends ran "Weeburg" airport at Elmira, NY. They sold Aeroncas and I well remember not only the Champ but the "Chief", which was a side by side two seater. They X licensed the Champ to tow Schwiezer sailplanes during the glider meets there during the summer season. Whatever happened to the Chiefs?
---
Oldmarine56, e-mail, 13.12.2010 18:57

In 1947 a Champ tried to land dead stick on our back pasture in Wilton, CT. He made it over the trees touched down and made an almost perfect landing until his wheels hit a furrow and he nosed over and bent the prop. They had to take it apart to take it out.
---
Don Adams, e-mail, 09.12.2010 22:58

Got my private license on the champ on floats in Northern Ontario in the mid sixties. We had one champ at the club with electric start and if we had full fuel and two people it would not get off the water. Had many fun hours and a few scary incidents to say the least. Would love to relive some of the times.
---
Watson Ten-Eick, e-mail, 01.12.2010 22:47

I solod in Tampa, while the airport was still called Drew Field by some. Second Army AF field in Tampa. Solod at 17, 1950. Loved it Had to dodge a few B 47s coming oiut of MacDill. Tower asked me to pull up and go around as I was about to land. They were bringing in a Constellation across my path. No two way radio. Replied by wagging tail or flaps. Joined AF and never flew again.
---
Emmett Stoker, e-mail, 30.11.2010 18:19

Five Freshmen in college and I, a senior in high school, purchased our Champ in 1957 for $200 each. We all learned to fly in a Mom & Pop dirt airport in Lake Charles, La. We could not afford insurance, so each wing bender/broken prop mistake would necessitate adding another part owner to cover the cost. And all work was done self-help. I don't know where the Champ is now, or status of the partnership, but, I wish all well.
---
Charlie Hutter, e-mail, 21.11.2010 01:43

I soloed in Champ N84620 in 1962 when it belonged to the Rensselaer Flying Club in Troy, New York. About 30 students were taught by Fred Sandberg, a retired Navy pilot, at the Troy airport on top of a hill outside town. No car was allowed freshman year in those days, so I walked to the field on weekends for an hour of flying for $4.00 solo or $7.00 if Sandy rode along. He always gave us a ride back to school at the end of the day. Today, after years of owning different airplanes, I have a 7AC Champ of my own. I found N82154, freshly restored by two mechanics at Hill AFB, at the Brigham City Airport in Utah. They asked me to fly it around the airport a little for old times sake. When I landed they thanked me for giving it a test flight for them. I was a little surprised, but it flew so well I bought it on the spot! The Champ now shares the hangar with our company Aerostar and CJ, both fine flying machines, but not half as much fun to fly on a nice day!
---
Bob Coats, e-mail, 19.11.2010 06:59

My first solo flight was in an Aeronca 7AC, N2607E, at Auburn University in Nov.,1957. 49 years and 8 months later I found it via FAA N-number data base at a grass strip in Ocala, Florida. Called the owner and arranged to see the old bird again. Drove from Marietta, GA to Ocala and not only got to see the Champ but got to fly it around the pattern. What a thrill. Of course it had a lot of instrumentation that wasn't in it when I soloed in it. Best I recall all I had to work with was an airspeed indicator, altimeter, RPM, magnetic compass and turn and bank.
---
Max Sarazin, e-mail, 14.11.2010 00:53

First ride Champ NC85433, 4/14/46. Flying lessons 1954 with Red Beach. Best airplane ever built. Loved skiis, spot landing contests, sideslip in crosswind, forward slip into tight fields. Sold my Champ in 1958, big mistake.
---
Paul Ort, e-mail, 12.11.2010 04:19

Several mentioned doing a sideslip in the Champ. Soon after my first solo on the way to a private ticket in 1957 I discovered the ease of sliding into the traffic pattern at the old AF Base/Tallahassee Airport. My instructor caught me, and I still cringe, remembering his speech after
I landed. Otherwise, the plane was a real joy. My extremely macho father was my first passenger, and for the first time in my life I caught him horror-stricken in a 720 turn. I'll never forget the joy of my "GOTCHA!"
---
Bob Leonard, e-mail, 27.10.2010 08:41

My first "learn to fly" airplane when I started my flying career in 1950. Great memories!
---
Herb Langland, e-mail, 23.10.2010 06:34

Solo flight in a Champ in Troy, Ala. in 1958. What thrill at 16 years old.
---
hugh cummingham, e-mail, 13.10.2010 16:41

As a flight instructor, about 45 years ago, I had the privelege of converting several new, tri-gear pilots to tail wheel dragger pilots at a small grass strip near the Wabash river about 180 degrees off the Danville VOR. The Champ had an 85 horse engine and was loved by all who mastered her. Flying my 225 horse Stearman, which is now owned by a retired Navy captain in northern Florida, was even more enjoyable in giving tail-wheel dual.
---
Mike Mangan, e-mail, 29.09.2010 21:08

Was a part owner of one back in college. It actually cost us $400 and we flew it for several years. Recovered most of it and put in a spare fuel tank (5 gal.) Sold it for $800 and thought that we were fabulous financiers. Would like to get one again. M.
---
Bill Forstchen, e-mail, 24.09.2010 03:55

I co-own the WWII military "precusor" of this plane, an L-3 built in 1943. I learned to fly back when I was in college, then had to give it up for many years (teacher's salary and family sometimes don't mix with flying!) Four years ago, still stranded on the ground after more than thirty years I wandered into an airport saw "HER" a fully restored L-3B and brought it without even flying it once. The dream had come back alive for me. I did my second "solo" in her after twenty hours (learning a tail dragger after first learning in a Cherokee threw me a bit at first) But after that? Wow this is real flying! Being an historian, with every flight I feel as if I am touching history up there, that somehow more than a few of the Greatest Generation, now with permanently mounted wings are looking down and grinning. On the day I soloed a wonderful "old timer" at our airport came up to me with a grin and tears in his eyes, "Bill I first soloed in that exact same plane back in 1942 and you brought back a lot of memories today!" It was a proud moment. I am amazed when I take "her" to an airshow or just land at another airport how so many come up to me, eager to see the plane then share their stories about how they did their first solo in an L-3 or "Champ," and out of all the planes they have flown since, flying in an Aeronca, pulled along by that little 65hp engine was the most fun they ever had in the air. I'm a big guy at 6'4" and 230 lbs, but once I slip into the seat, the plane fits like a glove. We're based out of 9A9 Shiflet, Marion NC, a wonderful 3,000 grass strip and some of the most beautiful flying country in the east waiting just beyond the runway. If ever you are passing through get in touch.

Bud Adams, thank you for finding "her" and restoring her to mint original condition. You have those "permanent wings" now but I feel at times as if you are in the back seat grinning.

Bill Forstchen
9A9

"Because I fly I envy no man on earth."
---
Jack Dole, e-mail, 19.09.2010 04:27

I started my flight training in 1962 at Phoenix Sky Harbor when the only terminal was on the north side of the only runway. Great thrill to solo in this airplane.
---
Joe Potts, e-mail, 17.09.2010 19:01

Soloed in a 7Ac At Asbury Air Terminal, Asbury Park, N.J. in 1958. My instructor said" Okay, do the same thing as last time only this do it yourself" I thought he was crazy. One of the greatest thrills of my life.
---
david sherman, e-mail, 16.09.2010 03:47

Flew this aircraft with a negative ground speed over a mountain in western NJ one winter with USAF winter suit.
The rudder flew off after a storm went through Teterboro.
---
Chuck Bellavia, e-mail, 24.08.2010 18:07

I flew this plane out of Hearndon airport (Orlando) with the Showwalter school G.I. bill. I remember the first time up, the instructor put the Aeronca in a stall and I grabbed the two struts over the dash and very embarrassed .Great fun plane.
---
Alan A. Brubaker, e-mail, 03.08.2010 05:16

In the 70's Chapter 400 EAA had a 7DC Champ that had an 85 horse engine conversion that increased the perfomance. IT was flown for a time out of Sell Airfield for a time and Blue Knob airfield till it was damaged in a cross wind landing. It was bought by one of the club and compleatly restored. Theowner died of natural causes and the aircraft was sold out of the area. It was a great flying aircraft.
---
tjipto, e-mail, 24.07.2010 09:03

does anyone have a 3 view drawing for this cute airplane ? I want to build it for indoor aeromodelling. thank you verymuch.
---
Bob Bush, e-mail, 13.06.2010 19:09

Just out of the Navy I used some of the Korean GI Bill and soloed in a 1946 Champ at Pottstown, PA airport in 1959. The airport was owned by John Basco, a great guy and pilot. He flew in WWII and Korea. I believe the grass strip was about 3000 feet and with John in the back, it took almost all the runway as he was no small man. When He allowed me to solo, I took off in 1/3 the runway an thought I did something wron. Then I realized that weight wasn't in the back.
---
Jim Popa, e-mail, 05.04.2010 03:06

Learned to fly at Univ. of Illinois Inst. of Avia. and soloed 7AC # N84008. No lights or elect. sys. and hand prop to start. Gave instruction later in US and at various military flying clubs, the last at Naval Base Rota, Spain.
One of the 7AC's had the prop come off in flight (can you say poor maintenance/preflight?) The student did a fairly good job of E-landing on a hilly farmers field, but nosed over and cracked the windscreen. Amazingly the wooden prop got into the auto-gyro mode and landed gently in the foliage.
We wanted to get the bird snuck back onto base without official notice of the incident, so we used OD military duct tape (Red Green would be proud!) to cover every crack, inside and out. The prop looked fine so we put it back on with new bolts. We pushed the bird to a dirt cart path running thru the field, and sinceI was the only instructor available A soft field T.O. got me out and back. Slow flight, of course.
The other memorable incident was at the U. of I. airport. No tower at that time so eyeball traffic control was the norm. Three concrete runways, an "X" with the third connecting ends of the other two. Wind allowed T.O. from either of the "X'ed" runways. Two 7AC's, each with instructor/student on board took off unknowingly heading for an airborne meeting. Seeing each other just before impact they hard rolled right and left, and gently impacted and locked together approx. at 100'. The resultant junkpile then fluttered onto the runway intersection. Guardian angels were on duty because all four plots crawled out of the wreckage and walked away!. Witnesses could not believe it.
I'd think a change of skivies was in order after that.
I loved that airplane.
---
Bill Burton, e-mail, 28.03.2010 01:12

I soloed in N85760 in 1959 in Akron Ohio. Bought it for $1000 with a partner. Our dual cost us $3.00 per hour and
avgas was 75 cents/gal (at 3 gal/hr). Took that old plane
to 14,000 feet MSL once. I can tell you that a 727 copilot
will swallow his gum when he looks out the side window and
sees a 7AC Aeronca going by. After 30 years of instruction time I still love that old 7AC. Spins real nice.
---
Foster Doak, e-mail, 20.03.2010 04:37

Oh my what a fun airplane. I logged several hours in a 1946 Aeronca while training at 6W6. (Hanover, PA) Ray Gephart was my very kind flight instructor. His family owned the airport and also a Champ. (N82245) No radio, noisy as all get out, squirrely heel brakes, no electrical system, no flaps, etc. Never had so much fun in my life: looking for the sock on top of the barn where the two grass runways intersected, slipping in over the cormstalks, doing spins and hammerheads. That's a lot for a young guy with only 50 hours. Crawling into the C152 was a terrible let down. At age 63, I am have nothing but fond memories of the airplane. Should have bought 82245 when I had a chance.

Foster Doak
---
Dana E. Anderson, e-mail, 18.03.2010 04:58

I soloed in N82260 in Omaha, NE. According to the FAA records that champ is now located in Andersonville, TN now. I flew crop dusters in Arkansas, Georgia, and Nebraska for 30 years and owned a J-3 Cub 32 years but still love the 65 hours I flew the champ in Omaha. Bonacci Flying Service at North Omaha airport at that time had 6 Aeronca Champs for rent. In my 11,000 hours flying time I have only flown 65 hours in nose wheel planes.
---
Doug Rodrigues, e-mail, 13.03.2010 10:05

I soloed off in a Champ in 1964. The only way to indicate 100 mph is in a dive.
---
Harry Saunders, e-mail, 11.03.2010 21:25

I bought a Champ in the late 1960's for $1400. I flew it for about 10 years and sold it for $3000. I based it at the old stone mountain Airport in Georgia. I could always find the Airport because the mountain was always in the Horizon. I loved to side slip it on to the end of the runway.
---
Sam J. Putt, e-mail, 03.03.2010 15:08

Learned to fly in the 7ac, back in the 50s, at the old Northfield Airport, in Richmond, Va.! Never forget the exciting, first solo, after only 5 hours. Had to land in
a crosswind that put the left wingtip down so low, it left me shaking and had to go around and try again! Rattled, I
circled long enoough to recall my crosswind instructions.
Landed smoothly and thrilled to do it.
Went on to own a Cessna 172 and a 150, but todays traffic congestion and pilots who ignore traffic rules drove me out.
Loved to sideslip the 7AC! Was better than flaps!
---
Sam J. Putt, e-mail, 03.03.2010 15:08

Learned to fly in the 7ac, back in the 50s, at the old Northfield Airport, in Richmond, Va.! Never forget the exciting, first solo, after only 5 hours. Had to land in
a crosswind that put the left wingtip down so low, it left me shaking and had to go around and try again! Rattled, I
circled long enoough to recall my crosswind instructions.
Landed smoothly and thrilled to do it.
Went on to own a Cessna 172 and a 150, but todays traffic congestion and pilots who ignore traffic rules drove me out.
Loved to sideslip the 7AC! Was better than flaps!
---
George Franklin, e-mail, 13.02.2010 04:26

Learned to fly at a grass strip just North of Beloxi, Miss. Owned by Dick Rogers who was promising a private license for $300. Took him up on that. Soloes after 8 hours and got my license Got my license after 40 hours. Did most of my flying in Camps with some in a Piper PA 12. Flew T Drafts while in Ames IA. Only had 59 hours when I ran out of money in July 1958. Didn't fly again 1993 when I took an hours dual to assure myself that I could still fly so I chould fly the MiniMax I had built in my basement. That was fun flying but didn't match the time spent in Camps.
---
Gene Smith, e-mail, 10.02.2010 05:09

Learned to fly the Champ in St. Louis during 1946 with a WASP instructor nemed Marge Needham. Good memories. Later flew around 30,000 hours from DC-3's to Boeing 727's for Piedmont. Now at age 84 I still own and fly a Champion 7ECA. Brings back good flying memories.
---
Dick Christ, e-mail, 02.02.2010 06:44

When I was in the USAF in Columbus, Ohio, in 1952, I was one of the first to join a SAC flying club. At first the club owned a J3, in which I soloed. Then each of us transitioned to the 7AC's. That's the airplane that got me my private licence at $4.00/hr dual and $2.00/hr solo, including fuel. Unbelievable! Now after 58 years of flying all types of airplanes for over 2500 hours I still have fond memories of my hours in the champs, including getting lost a couple of times. (No radios in those days.)Maybe I'll get another one soon.
---
Harry Hall, e-mail, 01.02.2010 17:55

I soloed, and then bought a 7AC Champ at Baldwin Field, Quincy, IL. I paid $1,500.00 for it. I took it to Canton, MO and sold 10 shares for $150.00 each to guys who hadn't learned to fly. When some did I sold out and bought a 12BCD Taylorcraft. About 1958.
---
Carl Felty, e-mail, 31.01.2010 22:51

In 64, in Gila Bend, AZ, I owned 1/3rd of 7BCM, N2162E. It was a great airplane to knock around the desert with. I sold my share when I bought a Stinson 108-1 Voyager. I preferred the Air Knocker to the J-3. It's roomier for a big guy. I've flown Chiefs but liked the T-Craft better. I owned and soloed in a T-Craft BC12D, N95317, in Nov. 62. I also owned a Piper J-4A, now in a museum, which I liked alot.
---
Scott Boyd, e-mail, 25.01.2010 05:59

I started instruction in a 7BCM at a dirt strip south of Denver, just down the road from the dynamite factory.

I had been hanging out at the local airport for years and pretty much knew how to fly by then. One of the instructors at the airport was able to lease space at the dirt strip and I helped out, painting,the office and buildings and pumping gas and finally helped recover the Champ. I got to paint the Flying Tiger teeth and eyes, sunburst on the upper wing. Soloed in 4 hrs.

I was back there a few months later flying a 180 hauling jumpers on weekends. No interior, you could see daylight through the tail and it was impossible to do a three point landing.
---
Fred E. Cawthorne, e-mail, 18.01.2010 19:03

What a great 2 seater. She was the first plane I flew and soloed in. I can still hear Pete Hill my insturctor saying when starter her engine, and my reply, BRAKE SET, BRAKE SET, SWITCH ON, SWITCH ON, CONTACT, CONTACT. He was a big man and could turn the propeller easily. Man did she have lift after the instructor got out and said take her around. No radio, and that canvas construction and she only cost with instructor $7.00 a hour. WHAT MEMORIES.
---
Jack m moody, e-mail, 15.01.2010 04:32

I learned to fly in a champ 7AC back in 1947. This plane has always been my fovoret slice of life. I have owned 3 of them through the years along with 2 L3 airknockers. Several people I flew for their first time went on to comercial flying. I flew for our company (HEAVIER TRIKES) BUT THE OLD TAIL DRAGGING CHAMP WAS ALWAYS MY FUN FLYER.
I am 77 years old now but still have it. Don't let the years shut down your love for flying. THINK 7AC..
---
Ron Dennis, e-mail, 12.01.2010 06:01

Am disappointed that the Aeronca Sedan 15AC is not mentioned. It is a beautifully designed four place built in 1946. I have one on floats with a 180 HP Lycoming.
---
Elton Paus, e-mail, 06.01.2010 20:56

I received my private pilot's license in one of these Champs, in Madison, WI..In my pre-test flight I was the recipient of an instructor looping this aircraft after I had recovered from a 2 1/2 spin, It was a joy to fly..Also have time in an Aeronica Chief..Though I don't pilot any more, it's still brings back memories to an 85 year old..
---
Brian Hadfield, e-mail, 31.05.2009 23:54

I recieved my tailwheel endorsement in a 7AC after allready having 1000 hours nosedragger time. I can still remember "trying" to drive home after my first flight in it. I was so concentrated on my feet I was "trying" to drive my car using them which by the way doesn't work. Last year I had the opportunity to buy a half share of a 7AC which I did. Even though I fly brand new Cirrus aircraft for the school I teach at I would rather fly and give lesson in my Champ any day of the week.
---
John R. Ward, e-mail, 05.08.2008 02:13

I soloed in a J-3 cub in 1945 and after many years flying mostly Cessna,Piper,Cessna,Bonanza aircraft I became a partner in a 7AC Champ. After many enjoyable hours of just riding around the country side and going to air shows, I finally desiced to hang it up. What a great little plane.
---
NORMAN SKARZYNSKI, e-mail, 30.06.2008 23:28

I soloed the 7A CHAMP in six hours back in 1947 at Ashburn Field in Chicago. At that time you could rent for $6.50 an hour wet. I used to love to do spins in that ship.
I am now a glider pilot with over 2700 hours in gliders.
---
Ace Avakian, e-mail, 07.06.2008 02:47

I have many hours instructing in this cute airplane. Not to take anything away from the J3 but I found it easier to instruct in this airplane. I have many pleasant hours in both but my heart is with the 7AC Aeronca!
---
Jim Kemple, e-mail, 26.05.2008 02:52

I too learned to fly in this aircraft. I was in the Navy stationed at Chase Field, Beeville, Texas. I worked part time at Travland Airport for Scotty Bledsoe and took all my wages out in flight time. I soloed after about 8 hours and it was a thrill for me, after working with the NAVCADS at the Navy Base. My instructor was one of the last "enlisted" pilots in the Navy. I was 21 years old and an Air Traffic Controller at Navy Chase Tower. I have been "checked out" in many airplanes since then but still remember the fun times in that 7AC Chanp.
---
Al Gatto, e-mail, 20.05.2008 23:08

I saw an ad in the Jacksonville, NC newspaper in 1954 that said I will solo you for $75.00. That was just what I had saved up after returning from a 6 month Med. cruise. I was a Staff Sargent in the USMC. I soloed in that beautiful Aeronca Champ after 7hr & 30 Min. I have flown everything from F-100 Super Sabres, C-141's through Gulfstream IV's. Nothing compares to my solo in the Champ.
---
Bob Carver, e-mail, 05.05.2008 22:20

I soloed in good old NC 83690 in 1946, Bolton Field, MA. Loved it Wish I could do it again.
---
R W Mathews, e-mail, 02.05.2008 00:38

Would love to have a 7AC. Put many hours in them. Taught in them also. The earth is just more beautiful from the air when you don't have to be somewhere is a hurry.
---
Beth Wallach, e-mail, 30.04.2008 00:12

This is the plane I learned to fly in 1959. I was 24 years old and earned $90 a week, of which about 25% went for flying lessons. I loved it. But, alas, around the same time I met the man I would marry, so I gave it up. But it still thrills me when I see a picture of that wonderful little yellow champ.
---
If you want to send an email just replace '(@)' in the address with '@' !