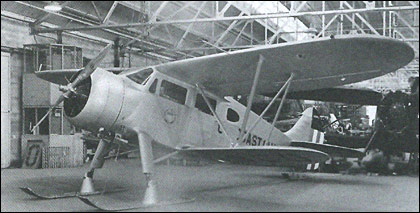 Sunderajan, e-mail, 31.01.2013 11:44

About 1937, Tata Airlines, Bombay India,started by the legendary J.R.D Tata, had a fleet of arround 6 Waco sesqui planes fitted with jacob engines. I am not sure of the propellers, probably either fixed pitch or Variable but certainly not costant speed .When I joined the Airline in 1944 the fleet was still operational. I wonder if any can throw more light on the Wacos.
---
Mike, 19.07.2012 22:57

I have another shot of this J2W taken at the same time and place and the 2B20's counterweights are clearly visible. The J2W was an EQC-6 (as per Waco's own books) - not the ZQC-6 and so had a 320hp Wright R-760-E2 instead of a Jacobs.
---
Thomas D. Moreland, e-mail, 24.11.2010 06:01

The propeller in the photo does not have counter weights so it is not a 2B-20. It appears to be a ground adjustable propeller which was common in that time frame.
The ZQC-6 had a Jacobs L-5, 285 hp engine from the factory.
68 of these aircraft were sold. The 2B-20 was available as standard equipment.
---
WALLACE MURRAY, e-mail, 14.10.2010 20:04

THIS IS PROBABLY A 1936 WACO ZQC-6 245 H.P. JACOB ENGINE WITH A HAMILTON STANDARD 2B-20 CONSTANT SPEED PROP
---
If you want to send an email just replace '(@)' in the address with '@' !