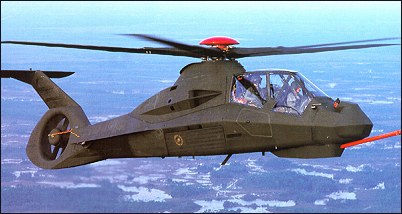 cristo espinoza, e-mail, 30.01.2013 17:05

love this helicopter first time i seeing it on you tube bad ass ran 66 comanche like to have one of this may be fly one that is one cool helicopter hope they built this helicopter for the next war that would be nice.
---
Reticuli, e-mail, 04.05.2012 03:14

Blah, you're an idiot.

Mickey, you got any evidence for that?
---
Mickey, e-mail, 27.09.2011 12:53

A Total of 9 Comanche went to Iraq was but only 2 survived, what about that?????? No one talks about that.
---
soccer, e-mail, 11.06.2011 07:53

if someone can find it, it probably has more than enough information.
---
1337painless, 08.03.2011 16:16

The helicopter has side wings that opens up with missles in them but you don't really see them because they are folded in the helicopter. They can also be fitted with additional wings filled with all kinds of missles. It's cool when the wings opens up.
---
don, e-mail, 03.06.2010 03:41

money ,is one reason & 2 it was not as good as advertised,Fly by wire was not perfected and EMP shilding, just seeing it fly the control logics were not there,Glad its gone,
---
Reticuli, e-mail, 14.06.2009 06:19

By the way, I used to be a shareholder in Microvision, but I'm not sure they ever actually got the HIDSS contract away from Kaiser. VRD is definitely brighter and higher contrast than conventional HMDs, but the rastorization technique can be tough on the eyes as it's not continuously lit. So even at 60hz it can seem to flicker a bit. I'm sure eventually they could have gotten it higher (90-120hz), so it still would have been a nice choice. Block III Apache will also be moving away from the dreaded CRT monocle with its x-ray emmissions right next to your head. The SAC joystick is also back.
---
Reticuli, e-mail, 14.06.2009 06:09

Blah, that's exactly what you sound like. A helo weighing in at 30,000kg isn't going to be quiet, manuverable, low observable, or have much room for advanced FCS, avionics, fire control & recognition systems, or weapons. Not to mention it's not going to be good for anything except for transporting cargo in a very brute manner. The 66 was designed to be quiet, hard to see, agile enough to run CAP missions against other helos, and could be flown and fought with in a CBRN-toxic environment even if one of the two crew members was incapacitated with just one hand, while the other hand was working displays and switches. It was also meant to be easier to mantain, able to withstand harsher environments than the Apache and Kiowa (which don't like sand much) and have such a rapid turnaround that it would be a presence multiplier...as if the Army had many more Comanches than they actually did simply because very few at any one time would be grounded for refurb. Apaches, in contrast, spend the majority of their life in repair, compared to in flight. Not to mention the data-linking capability that made it a force-multiplier. While the up-front cost was not cheap, the service life of a Comanche would also be far cheaper than an Apache. This sort of system is highly future-looking and requires a prudent mind to get their head around, rather than someone like yourself. The 66 was canceled for one reason: money to pay for the Iraq war, which used a great deal of its funds from secret paths and leaching from various programs over the years. Go ahead and try to find the exact cost of the Iraq War and where all the money went. At this point, you can only estimate and we'll probably never know. All pretty much Rumsfeld's fault, as it was his idea to overtly go into Afganistan in the first place rather than just support the CIA's efforts and oddly enough also supported another regional war (Iraq) even after saying publically the One World War or Two Regional Wars readiness framework for the U.S. military was unnecessary and outdated. Ah, HELLO! Oh, he also said the absolute classic: "You don't fight with the military you want, you fight with the military you have." Nice one, dufus, so go canceling all the best programs for the Army. So much for readiness or forward-looking. What a crazy SOB he is. The Comanche was the most sophisticated helo ever created. A total package deal. Thankfully, many of the systems are being adapted to Block III Enhanced Apache. The stealth features, which would have been useful against a resurgent Russia, China upset with Taiwan for whatever reason, or a lunatic-run North Korea, sadly will not be carried over. The Army still does not have a replacement for the Kiowa, as they keep canceling off-the-shelf concepts they come up with. On the Comanche weight and modified longbow radar: the Comanche clocked in higher in weight due to the amount of stuff the Army kept adding to it. So even after mass-cutting efforts I believe it was a little over 9000lbs with the radar, which was not a mini-longbow, but being called a the comanche radar. It was elongiated to mantain its capabilities without sacrificing the radar signiture. The mini-longbow didn't have the range it was supposed to, so they went up in size. The vertical tail fin stubs were also never adopted, though they were tested in flight. Didn't improve things as much as the computer models suggested. The weight issue was overstated, as the helo was still definitely in the "light" category and had a lot of excess power and manuverability.
---
E. Fox, 20.05.2009 07:58

There was an old documentary way back on Discovery Wings that talked all about the whole LHX program and the Comanche, if someone can find it, it probably has more than enough information.
---
blah, e-mail, 05.05.2008 03:51

This thing doesn't really impress with its specs. A russian Mil Mi-26 is 4 times longer and weighs nearly 30000 kg. and has almost the same speed as this one, even though its commonly used as a transport helicopter and was already out in use in 1983!!! so its good that this one was cancelled, because it would be so lame compared to the technology level we have nowadays. But it looks nice though!
---
sittingmoose,shaman, e-mail, 08.01.2008 20:57

Sooooo, All this time and cash (1985-2004 and 6 Billion Schamoans),Just......flies away like 'Foo-Fighters'in the sky..... . S'what's next? Y'ih don't suppose 'They'finally got that 'ol Flying Saucer back at "Area-51" fired-up and operational.....?
---
Bruce Wise, e-mail, 01.12.2007 16:38

Hey I'm also doing a research on the RAH-66 Comanche, and if anybody has anything to add (such as video clips) that would be great! I really need some video cilps too!
---
Ronnie Jones, e-mail, 16.09.2007 00:01

I'm doing research on the RAH-66 Comanche, and I need 2 Videos clips, to demonstrate It's capabilities. ASAP.. please send me such,to continue my presentation for George T.Baker Aviation School Thank you
---
If you want to send an email just replace '(@)' in the address with '@' !