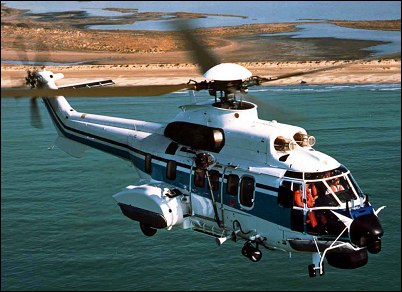 Yousuf, e-mail, 17.04.2013 07:57

I am looking for Turmo IV C engine container. If any available for sale kindly contact me.
---
MariaG, e-mail, 06.03.2013 23:24

I would like to know the size of the main rotor blade chord, and the airfoil info. Thanks
---
my riza, e-mail, 30.07.2012 20:04

IM INTEREST ARNOLD MILLER REQUARMENT OF MKII SUPERPUMA
I HAVE IGB MKII PN 332A35-0010-00
PLEASE CONTACT US ON 082118105751
THX
RIZA
---
akbar, e-mail, 21.05.2012 07:20

I have 2 Turmo IVC engine in serviceable condition. Our helicopter is now flying (last fly 15/03/2012).

1) S/N : 739 Hrs. 2343.55 Cycles : 3352.05
2) S/N : 1686 Hrs. 1521.69 Cycles 2201.55
Package price is : US$ 550,000
---
Anya Sapphira, e-mail, 16.04.2012 11:40

Looking for:
E 31ABMI, Force Link Pitch and Roll, NE, 1 ea
704A44-5001-17/332A55-0103-02/-03 ALT.1797605, Fuel Cell Rear, NE, 1 ea
4001670-2511, Radar Display, NE, 1 ea
071-01330-0003 ALT. 4000-831-0103, Radar Transceiver, NE, 1 ea
597-2094-101, HF Coupler, NE, 1 ea
113-97X2-62-20B8, Oring, NE, 4 ea
61268, Relay Junction Box Hoist, NE, 1 ea
ASNA0032-397, Clamp, NE, 2 ea
0301527940/0301528020, NTL Harness, NE, 1 ea
MS28775-118, Oring, NE, 4 ea
6114GAA12B10SN, Connector, NE, 2 ea
332A67-1310-112, Cable Bundle, NE, 1 ea
6100GAA14B19SW, Connector, NE, 2 ea
098825040/0298825040, Liaison Tube AC, NE, 1 ea
---
zainal, e-mail, 16.12.2011 16:29

PN: 330A31-1222-14, Shaft Asy Main Rotor, 3ea
PN: 330A31-1626-00, Support Asy , 1ea
Very interested to buy. Send the ppw ond/or pictures/
---
soccer, e-mail, 11.06.2011 07:12

what makes the super puma special,apart from its size.
---
Freeeman, e-mail, 14.04.2011 17:35

Please where can I have opportunity to do conversion training on Super Puma AS332B as a pilot. Am a qualified helicopter pilot already. Need urgent reply. Freeman.
---
Saleh Aoude, e-mail, 05.04.2011 10:40

Hi, Looking for spare parts for PUMA & GAZELLE Helicopters.
Can you provide a quote??
---
Ginanjar, e-mail, 07.10.2010 06:54

Great , we have Super Puma As332c and we have a lot requirement spares to be back up especially for engine accecories.
Kindly please show us your stock availability.

Ginanjar
---
Arnold Miller, e-mail, 06.08.2010 22:55

Looking for MK2 and 6 spares and parts for procurement in Florida USA.

Thank You
---
sean nolan, e-mail, 28.11.2009 05:22

just to say what an awesome piece of kit the puma is.i absailed from one in front of princess anne and worked with them for 12 years,thank you,just brought back some good memories
---
Fadly, e-mail, 04.11.2009 15:45

Greetings,

I just want to inform, that our company had stock spare part for SUPER PUMA AS-332, in many kinds, types and condition. also with negotiable price. If interested I will show more detail. Please contact us.

Best Regards,
---
emmanuel ojogbo, e-mail, 14.09.2009 20:53

what makes the super puma special,apart from its size?
---
Ade Oyewole, e-mail, 13.04.2009 23:41

please i'll like to know if you do refurbishment of super puma, if you do please advice so that we can open a line of discussion.
---
gio, e-mail, 19.02.2009 00:37

Super Puma Helicopter photos
---
Robert, e-mail, 01.12.2008 04:24

I am interested to know if the mentioned helicopter is still available and at what asking price.
---
Mr. Moustafa Hassan, e-mail, 09.11.2008 01:15

-----------------------------------------------------------
I am Moustafa Hassan from Libya,looking for Helicopter supplier to provide charter full time services for offshore oil&gas companies ( on a base run your business and I will assist you on doing so !!) if interested please reply
Thanks in advanse.
Cap. Moustafa Hassan
Sanabel Libya Oil Services,
P O Box 27/28th March Tobruk,Libya
(00218) 092 808 8073
-----------------------------------------------------------
---
Sintha Mathar, e-mail, 12.09.2008 06:48

I am interested on the puma helicopter available in Nepal
---
Mahesh Rimal, e-mail, 20.07.2008 15:39

We have one Puma helicopter for sale here in Kathmandu,Nepal.

Please advise interest so we will forward all the details.

With best regards

Mahesh Rimal
Aero Dyanamics Pvt Ltd
Kathmandu,Nepal.
---
Eamon, e-mail, 16.04.2008 21:22

On the Puma HC1, RAF version there is a recessed panel on the fwd left lower fuselage just rear of the external power socket what is it's purpose.
---
Gorji, e-mail, 10.09.2007 09:00

thanks for your information,would you please inform me by the status of super puma products in INDONESIA.
---
Patrick Slack, e-mail, 26.08.2007 13:01

What avionics are fitted to this helicopter
---
"SUNRISE", e-mail, 28.11.2006 00:32

COOL PUMA HELO. THERE SHOULD BE A 3-VIEW DRAWING THOUGH.
---
If you want to send an email just replace '(@)' in the address with '@' !