Leonardo da Vinci
helicopter project
1493
The first studies on helicopters were well in advance of the first airplanes. Leonardo da ...
---
The very first self-propelled model of a lifting airscrew seems to have been the spring-driven ...
Lomonosov
helicopter project
1754

---
Launoy & Bienvenu
helicopter project
1784
A year after the first successful ascent by a hot-air balloon, Launoy, a naturalist, helped ...
---
Another model of a vehicle for vertical flight invented by Lambertgye ...
Lambertgye
helicopter project
1818

---

Sarti
helicopter project
1828
Surviving designs of the "Aereo Veliero" (aerial sailing ship) by Vittorio Sarti, a Florentine cobbler ...
---
Picture above: machine for vertical flight designed by Sir George Cayley, one of the great ...
Cayley
helicopter project
1843

---
---
The first helicopter patent granted by the British Patent Office related to an aircraft with ...
Bright
helicopter project
1861

---
Nelson
helicopter project
1861
Long before the Wright brothers were sailing in their experimental gliders over the sand dunes ...
---
Captain Powers was inspired to invent his flying machine by the Union blockade of Confederate ...
Powers
helicopter project
1862
---
Crowell
helicopter project
1862
In West Dennis, Massachusetts, meanwhile, another inventor was pressing the New Yorker for the honor ...
---
If practical results were not forthcoming, there was one memorable advance achieved during this period ...
Amecourt
helicopter project
1863

---
Wootton
helicopter project
1866
The mid-1800's was a banner time for American inventors to try their hand at designing ...
---
Shortly before his death at the age of thirty Penaud revived a sort of "Chinese ...
Penaud
helicopter project
1870
---

Rykachev
helicopter project
1871
As early as 1860, M.A.Rykachev, a Russian, began investigating "aerial propellers able to propel themselves ...
---
The model produced by these two French workers had a "gunpowder engine", which may be ...
Pomes & Pauze
helicopter project
1871
---

Achenbach
helicopter project
1874
Achenbach, a German, designed an aircraft with a single rotor to ensure lift and also ...
---
Other American inventors during this era who sought to solve the problem of mechanical flight ...
Ward
helicopter project
1876
---
---
The second autogyro built by Vuitton had a small engine which drove a tractor propeller ...
Vuitton
helicopter project
1877
---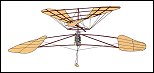 Forlanini
helicopter project
1877
An Italian professor, Enrico Forlanini, had an ingenious idea for overcoming the weight of a ...
---
In the same year as the Italian Forlanini, Gastel used a compressed air engine to ...
Castel
helicopter project
1877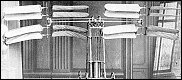 ---

Melikoff
helicopter project
1879
In 1879 Melikoff designed a model helicopter fitted with an airscrew having the shape of ...
---
In 1879 John Greenough came out with a patented design that was a slight improvement ...
Greenough
helicopter project
1879
---
Quinby
helicopter project
1879
A month before Greenough received his helicopter patent, another was issued to Watson Quinby on ...
---
In 1888 another Southerner, Edward Johnston of Alabama, entered the aviation field with his ideas ...
Johnston
helicopter project
1888
---