The first five designs evolved by Alfred Vogt of the Helicopter Technik Wagner since the company's formation in 1960 included two experimental helicopters, each powered by a 95hp rotary engine. One was a simple 2-seater with a skid undercarriage and pod-shaped body; the other was the Rotocar III 'roadable' helicopter.
From the former design Wagner has produced the Sky-Trac torque-less helicopter, which is basically a chassis frame carrying the engine and rotor system, to which a variety of cabins or equipment can be fitted to fulfil different roles. Prototypes of the Sky-Trac 1 (D-HAJE) and Sky-Trac 3 (D-HAJI) were exhibited publicly for the first time at the Hanover Air Show in May 1966, the former having flown for the first time in July 1965. Both are powered by similar Franklin piston-engines, the Sky-Trac 1 being a single-seater with a 'goldfish bowl' moulded canopy, open at the rear, and the Sky-Trac 3 a 3-seater with a larger cabin faired-in at the back and underneath. A feature of both aircraft is the complete absence of a tailboom or tail structure of any kind. The Sky-Trac 3 can lift loads at least equivalent to its own weight, an under-fuselage hook permitting slung loads of over 700kg to be transported. Alternatively, the heart-shaped cabin can accommodate a stretcher and medical attendant in addition to the pilot, or for agricultural use can be fitted with spray bars and a tank holding 650 litres of liquid chemicals.
K.Munson "Helicopters And Other Rotorcraft Since 1907", 1968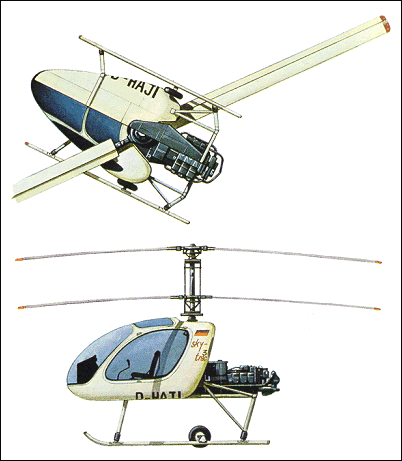 The Helikopter Technik Wagner, formed by Josef Wagner, designed a series of helicopters with coaxial rotors during the 1960s. The earliest test models were fairly rudimentary machines built to test the concept, and one design was a roadable machine titled the Rotocar III. The first production-standard prototype to fly in July 1965 was the Wagner Sky-Trac 1 (D-HAJE), which still had a frame structure but was fitted with a 260hp Franklin 6AS-335-B engine, and had a sliding canopy forming an enclosed cabin for the single pilot. A second machine was built (D-HARB) which was fitted with a pontoon landing gear and a longer boom with a V-tail. The subsequent three-seat Sky-Trac 3 (D-HAJI) had a more complete cabin structure and was fitted with spray bars and under-slung tanks for agricultural chemicals. Wagner also built a prototype (D-HAGU) of the Aerocar roadable helicopter, powered by a 260hp Franklin 6AS-335-B engine, which had a complete body shell with twin fins and four wheels linked to an automobile drive system for its ground transport role. It was first flown in 1965. It was subsequently rebuilt with a Turbomeca Oredon turbine engine.

After extensive development work had been carried out, the Wagner designs were passed to a new company, Helikopter Technik Munchen (HTM) in 1971. HTM abandoned the Aerocar, but built a new prototype of the FJ-Sky-Trac (D-HHTM) in tandem two-seat configuration, as a utility helicopter with a 260hp Lycoming IO-540 engine. This still had the coaxial rotor system but was extensively redesigned to accommodate the new engine and cockpit layout. HTM then went on to build two examples of the HTM Skyrider (D-HTMS and D-HHTF) which reverted to the configuration of the Sky-Trac with a four-seat cabin and a fully enclosed streamlined structure. The Skyrider was an attractive machine with a skid undercarriage and V-tail, which commenced flight testing on 21 February 1974. Unfortunately, HTM was forced to abandon further development in 1975 through lack of further funding.

R.Simpson "Airlife's Helicopter and Rotorcraft", 1998

<!font size=3>Technical data for Wagner Sky-Trac 3

Engine: 1 x Franklin 6AS-335-B pistone engine, rated at 195kW, rotor diameter: 10.0m, fuselage length: 4.0m, height: 3.80m, take-off weight: 1500kg, max speed: 166km/h, service ceiling: 2200m, max range: 200km <!/font>

<!/font>
| | |
| --- | --- |
| Peter Pock, e-mail, 02.04.2011 | reply |
please let me have the full length of your helicopter fleet

for south America .

Regards Peter Pock
Do you have any comments ?