There is no text information for this aircraft at the moment.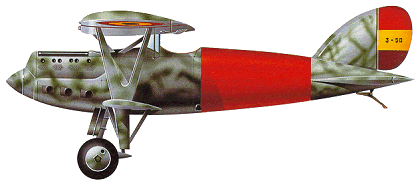 MODEL
NiD-52
CREW
1
ENGINE
1 x 580hp Hispano-Suiza 12Hb
WEIGHTS
Take-off weight
1800 kg
3968 lb
Empty weight
1360 kg
2998 lb
DIMENSIONS
Wingspan
12.00 m
39 ft 4 in
Length
7.64 m
25 ft 1 in
Height
3.00 m
10 ft 10 in
Wing area
27.75 m2
298.70 sq ft
PERFORMANCE
Max. speed
260 km/h
162 mph
Cruise speed
226 km/h
140 mph
Ceiling
7000 m
22950 ft
Range
400 km
249 miles
ARMAMENT
2 x 7.7mm
Barry, 12.05.2016 16:41

Based on the earlier Ni-D 42 but with metal replacing the wood of the earlier model, the Ni-D 52 was not ordered by the French with the vast majority of the production going to Spain where it was to fight on both sides in the Civil War. As the war progressed and the Italians and the Germans became involved it was painfully obvious that these machines were outclassed.
Do you have any comments?
All the World's Rotorcraft