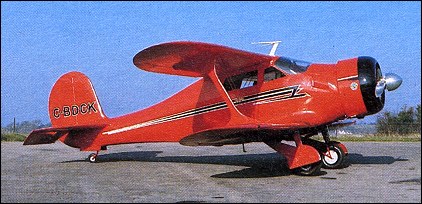 Pete deGroff, e-mail, 05.05.2012 00:27

I was raised to believe the Staggerwing was the greatest plane ever built by my father. He was trying to buy one in 1961. He didn't even have an active pilot's license at that time, but that wasn't going to stop him. Fortunately he had plenty of taildragger experience, having soloed in a Lambert monocoupe, and was a C47 and Waco CG4 pilot in WWII. I remember sitting in the backseat of a D model he was interested in at the Coatesville, Pa airport in 61'. I was 13 then. I can still remember the smell of those leather seats. He almost bought a G17 model from one of the Duponts down in Newcastle,Delaware for $7500. And it was in airworthy condition! I can still remember my mother throwing pots and pans around the kitchen when she found out.
The old man never did get his staggerwing, but we saw quite a few in airshows and fly-ins we attended in the 70's and 80's. He's been gone for a quarter century, but whenever I think about him, there's always a Staggerwing silhouette drifting across my mind's eye.
---
wigida, e-mail, 25.03.2011 07:33

A superbly maintained example of this aircraft in perfect flying condition is hangared at Redcliffe airdrome in Queensland Australia.
---
E. L. Mitchell, e-mail, 03.12.2010 03:34

The thing I remember most about this fabulous aircraft was the control column. The pedestal was in the center and the yoke could be switched over from the left seat to the right seat. There was a visible bicycle chain from the yoke to the pedestal. Only plane I've ever seen that had this arrangement.
---
Ray Winn, e-mail, 07.11.2010 20:22

I lived in Las Vegas stareting in 1940. Riding my bicycle to the construction site of the Flamingo Hotel almost every day. Bugsy Segal flew in twice in a Staggerwing. I thought I had gone to heaven when his pilot took me up (age 12)for a ride for a test after a minor repair. I thought then, anad still do, think it is a toss up between the P-51 and the Stagger as the most beautiful airplanes ever built. It inspired me to become a pilot, but after flying from 1956 and stacking up almost 11,000 hours in four Bonanzas and P-Navajos, at age 76, and falling below the 'magic' number of 200 hours per year, I let others do my flying.
---
Dwayne Burgess, e-mail, 05.11.2010 03:28

I my Uncle, Walter, owned and flew a Staggerwing Beech for many years out of Ely Nevada and Buhl Idaho. It was then and will always remain one of my favorites. What a marvelous air plane.
---
Bob Yount, e-mail, 28.09.2010 16:21

There is a Beech Musaum in Tullahoma Tenn. which has an uncovered D18 which gives an idea of the manhours required to built it. Also, there is an early version which has a double rudder, joined at the leadibng edge but with about an 8 in. spread at the trailing edge. My guess is that this was to ensure a seelf centering rudder, but no subsequent planes were made with this configuration.

No doubt that the Stagerwing was one of the most beautiful planes made at the time, but the Spartan Executive out performed the D18.
---
Paul Harrington, e-mail, 22.02.2010 07:37

When I took basic flight training in 1943 at Hartley Field in Denton, TX, the Civilian owner of the field, Mr Hart had anegative stagger Beech. What a beautiful plane that was. Mr. Hart had been a test pilot for Beech before the war. I visited the field about ten years ago with my son and there sat the Beech inone of the hangers. They had just made a movie there about a women's cross country race. Just changed the name on the hanger for different airports in the movie.
---
Carl Felty, e-mail, 01.02.2010 19:15

At Deer Valley Apt. in the '60's, a mechanic propped a Stagger wing with the throttle wide open. It broke loose from it's chains and chewed the entire rear end, from the trailing edge of the wing back, off of a Cessna 172 tied in front of it. In the coffee shop, I overheard one fellow telling another, that he always wanted a Stagger Wing, but couldn't afford to feed it Cessnas. The Beech did not appear to have any damage from the incident. The C172 was a total loss.
---
Vince Williams, e-mail, 17.01.2010 04:12

In 1943 our skipper at NAS Hilo obtained a GB2,even though he ws grounded he got this plane,I flew to Pearl frequently with our operations officer.one day the skipper was landing gear up,I ran to the edge of the runway & waved him off,loved that plane.
---
Irving Louis Hasler, Jr, e-mail, 14.12.2009 21:41

I am 76 years old and as a child I had a Uncle, Joe Lanctot, who was a small plane pilot AND a parachute jumper. He flew out of a very, very, small grass "airport" near what was then Stevens, South Dakota just across the Big Sioux River that is the border between Iowa and South Dakota. Anyway, the name of that old airport was Rickenbacker Field (named after the famous Eddie Rickenbacker)It was at that field in about 1949 or so when those Staggerwing Beechcraft landed and my Uncle and I got to see it...I fell in love with the Beauty of that ship and to this day am in awe of what a beautiful plane that is. Unfortuately my Uncle never got to fly that plane since he did not know the pilot who had flown it in, that was a shame becuase he always took me with him flying so I missed the chance to fly in that Beauty. I "guess" that was a G175..since according to your data that was when the last of them were made.
---
John Poucher, e-mail, 02.07.2008 04:18

A friend of my father owned one and as a child I thought it was the most beautiful plane ever made--and still do. The owner was a medium bomber pilot in WWII in the Pacific and was lost in combat. His plane was found in New Guinea around 1986.
---
Bob Watkins, e-mail, 25.05.2008 21:31

This aircraft can be the very best, or, the worst airplane out there depending on the condition of the airplane.
---
If you want to send an email just replace '(@)' in the address with '@' !