Alliot Verdon Roe, the founder of Avro, the firm that was to play such a huge part in the development ...
Avro I Triplane
1909

The Type D is notable in two respects. First, the prototype was at one point fitted with floats to make ...
Avro Type D
1911

One aircraft only, first flown in February 1912; converted into the Lakes Sea Bird in October 1912, crashed at Windermere ...
Avro Duigan Biplane
1912


Avro Burga Monoplane
1912
In 1912 A. V. Roe and Company built a shoulder-wing monoplane to the designs of Lt. Burga of the Peruvian Navy, ...
Non-specialist readers will know, and perhaps remember, the participation in World War II of such aircraft as the Avro Anson ...
Avro 504
1913

Built for the Admiralty early in 1916, the Avro 519 single seat biplane bore a distinct resemblance to the Avro 510 ...
Avro 519
1916


Avro 521
1916
The Avro 521 two-seat fighter, which was flown late in 1915, was something of a hybrid in that it embodied a number ...
Flown for the first time in May 1916, the Pike three-seat twin-engined biplane was designed primarily to meet an Admiralty requirement for ...
Avro 523 Pike
1916


Avro 527
1916
The final two-seat fighter derivative of the basic Avro 504 design, the Avro 527 was built for the RFC and flown for ...
Of relatively clean aerodynamic design by contemporary standards and featuring a ducted propeller spinner, the Avro 530 two-seat fighter was designed in ...
Avro 530
1917


Avro 531 Spider
1918
An unsponsored private-venture single-seat fighter designed by Roy Chadwick and flown for the first time in April 1918, the Spider made use ...

Avro 534 / 543 / 554 Baby
1919
Britain's first post-World War I practical light aircraft was the Avro Baby, which was fitted with a 35hp Green engine. Eight were ...

Avro 555 Bison
1921
Deck-landing reconnaissance and Fleet gunnery spotting biplane, first flown in 1921. Twelve Bison Is built for the FAA in 1923. ...
Three-seat heavy bomber of 1922 powered by a 485kW Rolls-Royce Condor III engine. Fifteen built for No 99 Squadron, RAF, ...
Avro 549 Aldershot
1922


Avro 561 / 563 Andover
1924
Similar in many respects to the Aldershot, the 561 Andover was produced to fly the RAF's Cairo-Baghdad air service. Accommodation ...

Avro 566 Avenger
1926
Aerodynamically one of the cleanest fighter biplanes of its era, the Avenger, designed as a private venture by Roy Chadwick, was first ...
Wooden two-seat Avro 581 Avian powered by a 52kW Armstrong Siddeley Genet engine; built for the Lympne Trials. As the ...
Avro 581 Avian
1927


Avro 584 Avocet
1927
The Avocet was designed to the requirements of Specification 17/25, which, issued in June 1926, called for an all-metal stressed-skin shipboard fighter ...

Avro 621 Tutor
1929
The original Avro Trainer of 1929 was designed as a replacement for the Avro 504N and featured a welded steel-tube ...
One aircraft only, conversion of unfinished Avro 608 Hawk. Completed as Avro 627 Mailplane. Converted to Avro 654 in 1933.
Avro 627 Mailplane
1931


Avro 652 Anson
1935
The Anson was derived from the Avro 652 - two of which were built to an Imperial Airways order of ...
The Manchester was a twin-engined, medium-range bomber. First flown in prototype form in July 1939 with twin fins and rudders ...
Avro 679 Manchester
1939


Avro 683 Lancaster
1941
Most famous of all Avro military aircraft and without doubt the most successful heavy night bomber to be deployed over ...
The York transport aircraft was developed from the Lancaster bomber. The original prototype first flew in July 1942. The type ...
Avro 685 York
1942


Avro 691 Lancastrian
1943
The Lancastrian was a high-speed long-range transport conversion of the Lancaster bomber. The first conversions were made in Canada by ...
The last piston-engined bomber to serve with the RAF, the Lincoln conformed to Specification B.14/43 and was virtually a scaled-up ...
Avro 694 Lincoln
1944

Avro Tudor
1945
The original Type 688 Tudor was conceived in 1943 to Specification 29/43 as a commercial conversion of the Lancaster for ...

Avro 701 Athena
1948
Two-seat trainer designed (to Specification T.7/45) for advanced flying training, day and night navigation, gunnery, bombing and photography. It could ...
Built primarily to carry out extensive research into the behaviour of delta wings at low speeds and to provide information ...
Avro 707
1949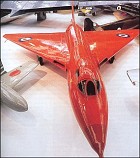 Avro 696 Shackleton
1949
The Shackleton was a maritime reconnaissance aircraft with a stressed skin fuselage and Avro Tudor and Lincoln components. Armament comprised ...
Large research aircraft, six of which were built for the Ministry of Supply to act as test-beds for research into ...
Avro 706 Ashton
1950

Avro 698 Vulcan
1952
The first jet bomber to employ the delta-wing configuration. The original Avro 698 Vulcan prototype was developed to Air Ministry ...